Das Nutrition
What is Fat Adaption and does it benefit Endurance Running
Hello Run Republicans!
The edge is something that separates the best athletes from the rest of the pack. As nutrition is considered to be of great importance in unlocking performance, perhaps it's time to take a deeper look at what emerging strategies are surfacing and how they can provide the 'edge' for runners; both the high performers and the curious enthusiasts.
Nutrition Quick Hit: Should I opt for a high fat diet to maximise my running performance?
'Fat-adaptation' for endurance or distance competitors is a major talking point.
However, does performance improve with more fat as a fuel source?
Here's a quick breakdown of the idea:
'Consuming more high fat, low carbohydrate diets will change the individuals metabolism and allow them to perform for hours on pure fat metabolism' – fat adaptation, per se.
In recent years, the idea of fat adaptation has made a serious surge. Many accomplished athletes have heaped praise in its direction and much of the media is equally smitten with the concept.
Even as recently as late last year following the reveal of some of Team Sky's nutrition concepts for their cyclists, high fat enthusiasts were pointing to this as proof of concept. Unfortunately, this was not the case and isn't really how it works.
Fat is absolutely necessary for everyday functioning. In the realm of performance, it's just not that great. If everyone raced at 70% VO2 max, the idea of a 'fat adapted' athlete would be the greatest endurance breakthrough ever. However, as you are aware, very few people win events at 70% VO2 max. It's a fairly low intensity, to say the least.
In short:
Fat adaptation or a continued low-carb, high fat diet leads to:
/far less higher levels of exertion
/less peak power
/less sustained power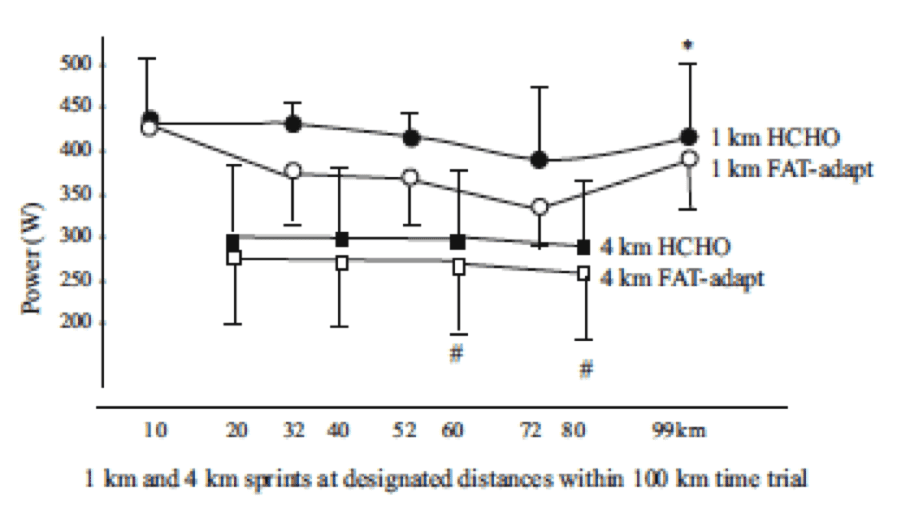 None of which are useful for competitive folks
The graph above shows that across 1km and 4km times, runners and athletes perform worse when 'fat adapted' and not fuelled with sufficient carbohydrate.
Not to be a complete downer, there are some proposed scenarios where having a higher fat intake can be useful for running performance
1/Running at sub-maximal effort where high intensity pacing is not the goal or main outcome
2/Ultra distance running events where carbohydrate stores are exhausted early and continued availability becomes difficult. In cases such as these, energy becomes the main focus and fat sources can provide a better return of investment.
To recap
1/ 'Fat-adaptation' or fuelling the body for activity solely from dietary fat sources has become extremely popular
2/ Fat is a poor fuel source if you want to win or be competitive. Carbohydrates give you that extra gear when it's needed.
3/ If you're interested in ultra-distance events, including more dietary fat sources is a good way to keep energy levels up and maintaining performance to some degree.