Hello Run Republicans!
My name is Rabin Das and I'm a Health and Performance Nutritionist!
I hold an MSc in human nutrition and metabolism, and am also an MNU Certified Nutritionist. Passionate about all thing's nutrition related, my hope is to bring about a culture change in how we discuss and communicate nutrition for both health and of course, performance.
In my pursuit of nutrition mastery, I've interned with esteemed healthcare professionals such as Professors Donal O'Shea and Seamus Sreenan, and more recently have come to be mentored by Martin MacDonald, the UK's top clinical performance nutritionist.
I'm a big fan of endurance sports including running (obviously) and love talking about how to improve running times, training performance and competitive outcomes through nutrition.
I'll be doing some posts for Run Republic dealing with some of the big nutritional concerns for runners. If you want to check out more of what I do, get me over on Instagram @dasnutrition.
And, if you're a club wanting to give your members a leg up on the competition this year, what not have me come speak at your club. If you're interested, drop me an email to rab@dasnutritionconsultancy.com.
---
'4 Nutrition Secrets to Effortless Running'
Sub-par nutrition can be the difference between a great run and a terrible one. The correct fuelling strategies can make or break a race, either maximising your off-season efforts or leaving you wondering what more you could have done. Whatever way you choose to look at it, nutrition's got to be a bigger focus if you want to become a more effective runner.
1/Don't be lazy with fuelling strategies
You've likely heard it said that carbohydrates are the key to running performance.
Well, you'd be dead right.
But does that mean that we can take artistic license and something back all the carbs?
Perhaps not.
Depending on the distance and amount of time we spend running (both for training and competition) will dictate how much we should actually consume.
Let's look at this table: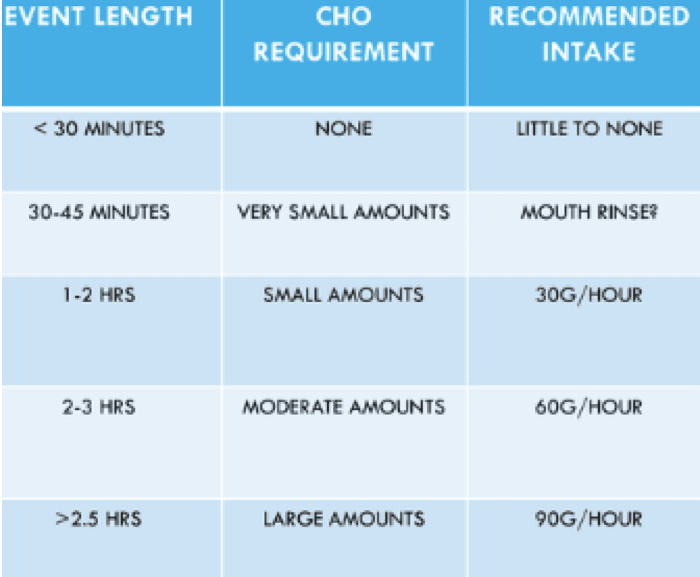 For shorter duration events and runs, you're likely ok with just water and what you've consumed over the course of the day (or night before). As the distances and times of completion increase, that's when you start to need more fuel before and during. 
2/Protein is for recovery not just for building muscle
A lot of us may minimise protein intakes in favour of greater carbohydrate intake. While prioritising carbohydrate intakes may take care of our fuelling and re-fuelling requirements, what about our recovery and adaptation needs?
Simply adding in a few strategic protein feedings throughout the day can massively improve run recovery and strengthen your chances for more routine performances.
What kind of simple strategies am I talking about?
Allocating a protein shake as your post run nutrition non-negotiable is a high reward strategy that could vastly improve a number of training-related goals, both in the short term and long term.
Then other simple protein strategies would include having some at each main meal.
FYI: I'm not de-emphasising the importance of carbohydrates but placing a little more emphasis on the importance of protein intakes.
3/Don't forget about a few performance 'friendly' supplements
Let's face it.
Your best running performances are built in your training sessions. The long hours, tempo runs and intervals that you do when no one is cheering you on is what makes your race times.
Why not make those training sessions count even more.
There are a few tried and tested supplements PROVEN to help you work harder in training leading to greater running adaptations and performance output (and yes they're safe and legal!)
I don't know about you, but I would like my hard work to be bullet-proofed as much as possible.
1/Creatine
-Improved lactate threshold
-Increased output in high intensity effort exercise
-Improve muscular endurance
2/Caffeine
-Delays time to exhaustion
-Improves muscular endurance and endurance performance
-Enables you to do more work and resists fatigue
Creatine and caffeine are just two of the known supplements that can help you with your running performance… 
4/Be aware of 'gut feelings'..
I'm not the kind that influences decision making but more the kind that influence how you'll race and whether or not you'll feel good doing it.
Longer duration running is pretty hard on the digestive system. The repetitive motion and impact doesn't exactly do wonders for digestion. This is important to keep in mind when considering fuel sources for longer runs and events (it's also a consideration for pre-race nutrition. That's a topic for another day, however).
Some things to be aware of include:
//Avoid choosing high fibre sources for pre-race and intra-race fuel. 
Why?
They're highly likely to not be digested and absorbed for when you need them and will likely lead to some stomach discomfort and affect your running performance
//Stay away from high-fat source
Why?
Again, this relates to digestion speed and stomach discomfort. Fat sources are the last to empty from the stomach and often influence speed of gastric emptying of other compounds. This can influence how we feel on a longer duration run (note: we are not discussing ultra distance here) – usually in a negative manner.
//Don't use a single source carbohydrate
Why?
First, let's define single source. What I mean is only using a glucose-based energy source over longer duration. Our digestive system can reach a saturation point of glucose uptake, meaning that we may not use this effectively despite its availability. That's why many gels and drinks are a mix of glucose and fructose. This allows the use of both types without desensitisation to one or the other.
To recap
1/ Effective fuelling in both training and race conditions is essential for the realisation of your efforts
2/ Protein is still a pretty good shout for runners
3/ A select few research proven and effective supplements should be in the cabinet of every runner
4/ Prepare wisely for a race or training when it comes to nutrition. You don't want your digestive system to kick up beforehand