There's an authentic charm and allure to the smaller races dotted across Ireland. They weave the fabric of communities tighter, celebrate local heroes, and invite all – from the enthusiastic beginner to the dedicated marathoner. This sentiment was beautifully echoed in my recent conversation with David Tyhuis from Ardee AC.
"When you think of Ardee AC, don't think competition first," David began, his voice reflecting the passion and pride he has for the club, "Think community."
Ardee AC's ethos centres on inclusivity and camaraderie. Unlike some clubs where the spotlight is reserved for the top 5 - 10%, Ardee AC extends its embrace to everyone. They've cultivated a nurturing environment that welcomes members from all walks of life - from those just lacing up their running shoes for a Couch to 5K journey to seasoned marathoners, and trail runners navigating various trails with finesse.
"We're not about the race against others," David clarified, "We're about people getting out there, enjoying themselves, the joy of running, and the journey alongside fellow community members. Everyone has their own personal challenges."
The growth of Ardee AC is a testament to their approach. An impressive 80 fresh faces recently started on the latest Couch to 5K program. But as with many stories of growth, there are associated challenges. The club is actively seeking a 'home', a dedicated space for athletes across age groups to comfortably prep for their runs. David's hopeful voice shared the vision of a joint venture with Square United – a shared space for two clubs, both with hearts rooted deep in the community.
But let's talk about the race that's got Ardee buzzing.
This year marks the 8th annual Seamie Weldon Memorial 5K and a debut for the 10K. These races are tailored to celebrate every runner's journey, irrespective of whether they're clocking a personal best or enjoying their first-ever long run amidst Ardee's roads. The 10K is a new feather in Ardee AC's cap, aiming to draw running enthusiasts from beyond the local boundaries.
"The community gets behind these races with great energy, from people volunteering to businesses who really get behind the race" David shared, adding that the 10K addition is bound to elevate the race's profile even more.
Seamie Weldon's legacy lives vibrantly through this event. Remembered as an icon who invigorated athletics, the race is a great homage to his contributions. This year, participants can look forward to a range of awards – from the coveted Seamie Weldon Memorial Cup for the leading male team to the Jimmy Bradley Memorial Cup for the top female squad. Not to forget, the Bonus Time Challenge is for those who are really pushing for target times!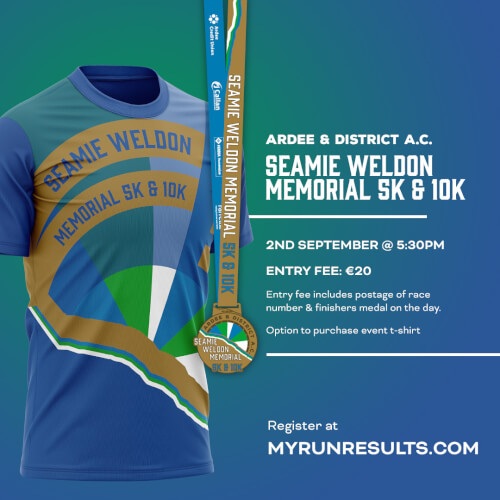 The event will also host the Louth Masters 5K Road Race, another feather in the cap of this community event.
Wrapping up our conversation, David's words resonated with the ethos of smaller races, "At the end of the day, it's not just about running. It's about community, celebration, and cherishing the legacy left behind by people like Seamie."
Whether you're in it for the competitive spirit, the community camaraderie, or simply the joy of running, Ardee awaits you. Come, be a part of a legacy. Come, run the Seamie Weldon Memorial Races.
PRIZES ON THE DAY…
The Seamie Weldon Memorial Cup – 1st Male Team (team of 4) + cash prizes & 2nd cash prize.
The Jimmy Bradley Memorial Cup – 1st Female Team (team of 4) + cash prizes & 2nd cash prize.
Cash prizes in all Categories – Seniors 1st, 2nd & 3rd / Masters 1st & 2nd o40, o50, o60.
Seamie Weldon Trophies – Juniors 1st, 2nd & 3rd (u18 Male/Female).
Bonus Time Challenge Prizes – Male 14 mins 35 secs / Female 17 mins 28 secs.
Incorporating the Louth Masters 5K Road Race.