It has been another great week on the roads for races around the country. Here is our weekly Road Race Weekly Roundup from Lindie Naughton.
Jake O'Regan of St John's AC had a comfortable win in the Run Kilkee 10km on the Loop Head Peninsula in Co Clare on Saturday (July 8) with a time of 32 mins 42 secs. Second and first M50 in 35:25 was Seamus Somers of Sligo AC.  Maura Ginty of Sportsworld AC was first woman  and first W40 in 43:18. Andrea McNamara of Midleton AC was just four seconds behind for second.  In the half marathon, Barry Donovan of Cork Track Club was the winner in 74:21, with Sinead Lynch sixth and first woman in 83:40.
A massive total of 2,669 completed the Clontarf Half Marathon in Dublin also  on Saturday with Yared Derese of Carrick Aces the winner and first M40 in a time of 70 mins 27 secs - not a bad time for a tough coastal course, made even more difficult in the warm windy conditions.
Fourth and first woman in 77:33 was Cliona Costello.  In the five-mile race, Anthony of LSA AC led home 1,125 finishers in 28 mins 27 secs. Fifth and first woman was Faye Dervan of  Dublin City Harriers in 29:25.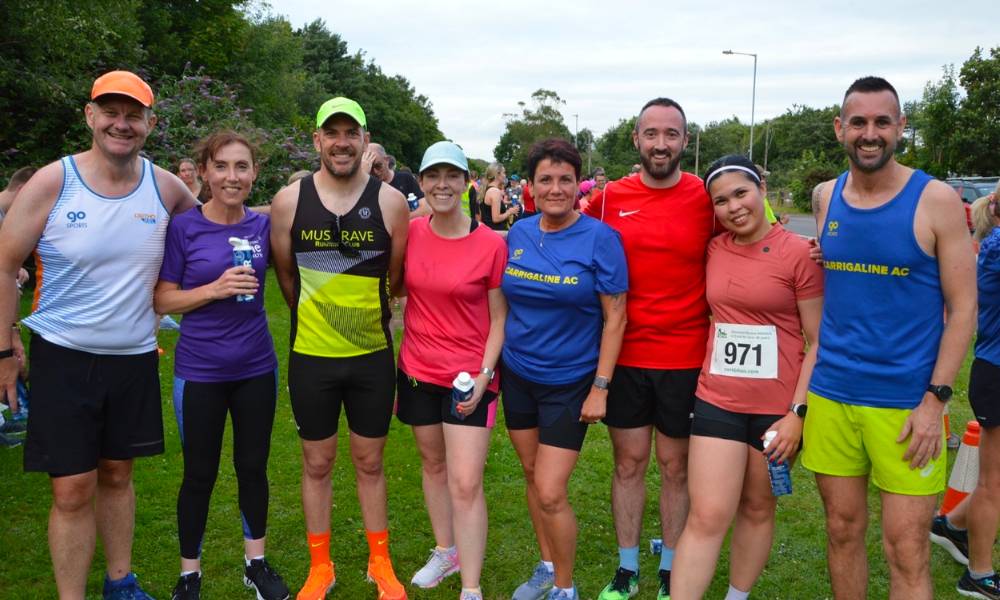 A day later,  a scramble  for the line at the Mooreabbey 10-Mile in the village of Galbally saw Michael McMahon of North Cork AC winning the  in a time of 54 mins 34  secs, with John Meade  of East Cork AC a second behind  and  Leevale AC's Donal Coakley third  in 54.42. First woman was Clara Ryan  of Sy Finbarr's AC in 68:21, with Lisa Crowley of Watergrasshill AC second  in 70:25 and Mary Louise Ryan of the host club Mooreabbey Milers in 71:38.
First M70 in  an exceptional time of 69: 56 - just beating his age!-  was  Joe Gough  of West Waterford AC, in his second road race in four days.
In Co Tyrone, also on Sunday, Gavin Corey of Strive AC won the half marathon at a well supported  Great Rossa Run in Dungannon with a time of 74 mins 42 secs.  Louise Smith of North Belfast Harriers was first woman and first W50 in 87:01.
Brian Kelly of St Abban's AC was the winner of the Mick Murphy Memorial 5km in Ferns, Co Wexford on Friday (July 7) in a time of 15 mins 25 secs. Laura Mooney of Tullamore Harriers was first woman in 16:51
Also on Friday, Sergiu Ciobanu of Clonliffe Harriers was the winner of the Deise College Dungarvan 10km in Co Waterford in 31 mins 8 secs. Evan Fitzgerald of Clonmel AC was second in 31:26 and Niamh O'Donovan of  host club West Waterford AC first woman  in 41:29.
Kevin Moore of host club Dundrum AC  just held off the challenge of Peter Brandon Somba from Dunboyne AC to make it a home win in the Coillte 10km in  Dundrum, Co Tipperary,  on Wednesday night  (July 5) .
In what many consider the best 10km in Ireland,  Moore defied the wet conditions to win in a time of 31 mins 28 secs, with Somba was second in 31:31 and Kane Collins of Donore Harriers a close third in 31:36. Mary Mulhare of Portlaoise AC  was first woman in 34:05, followed by Laura Mooney of Tullamore Harriers in 34:45 and Sharon Rynne of Kilmurry Ibrickane North Clare AC in 36:43.
Eighth overall and winning  the M50 category was Vivian Foley of Eagle AC in a  course record  time of 32:58. In the M70 age group, West Waterford AC's Joe Gough was also setting an age-group record when winning in  41:40.
Winners in the Greyabbey 10km at  Newtownards were Chris Hopkins of County Antrim Harriers in 33:57 and Karen Wilton of Jog Lisburn RC in 42:02. Junior athlete Kyle Thompson of Loughview AC won the 5km in 15:57 with Sarah  Connolly of North Down AC first woman in 21:37.
At the Corkbeg 4-Mile on Thursday (July 6) James McCarthy of East Cork AC had a narrow victory over Leevale AC's Nathan O'Leary with the pair timed at 20 mins 36 secs and  20:39 respectively and Donal Coakley of Leevale AC third in 20:50. Nadine Forde, also Leevale AC, was first woman in 23:55, followed by Siobhan O'Leary of Midleton AC in 26:16 and Christine Kelly of East Cork AC in 26:36. Conditions were wet and windy.
Mark Walsh and Lizzie Lee were the winners at the Sterling BHAA 5km (formerly Novartis), at Ringaskiddy, Cork on Wednesday (July 5).
Walsh of the Dept of Ed team was first home in 15 mins 43 secs, followed by Barry Twohig of Emerald Fencing in 15.57 and Duncan Hartwig of Diomac in 15:59. With three finishers in the top 13, Diomac took the team prize.
Lee  running for Apple finished tenth overall in 17:25. Hannah Steeds of Eli Lily was second in 17:33 and Michelle Kenny  of Dept of Ed third in 18.21. HSE packed well to won the grade A team category. A total of 307 completed the race