Dublin club athletes dominated the Fingal 10km in Swords on Sunday (July 16) which was the second race in the annual Dublin Race Series, organised in conjunction with the Dublin Marathon. 
Race winner in 30 mins 36 secs was Emmet Jennings of Dundrum South Dublin AC who was followed home by Sergiu Ciobanu of Clonliffe Harriers AC in 30:58 and last year's winner Peter Somba of Dunboyne AC in 31:26. A close fourth in 31.30 was Graham Gilshinan of Portmarnock AC.
First woman and also first W40 was Ciara Hickey of Brothers Pearse AC in 34:37, almost a minute clear of DSD's Meghan Ryan in 35:36 and Raheny Shamrock AC's Kate Purcell in 35:42.  Earlier this year, Hickey won the Sportsworld 5-Mile and she's aiming to line out in October's Dublin Marathon, despite a recent injury scare.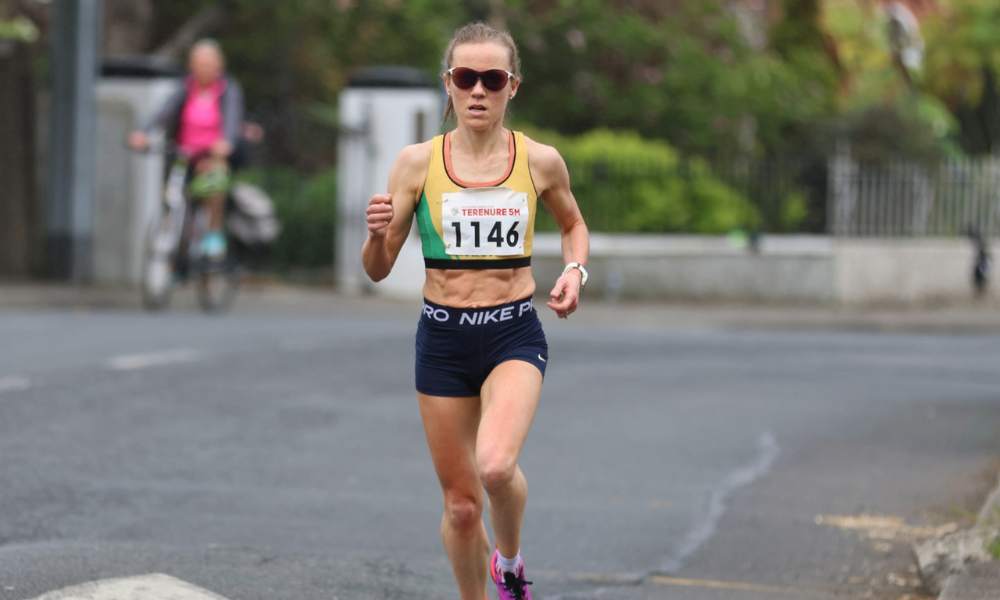 In the age categories, Mary Jennings of Waterford AC, mother of race winner Emmett, won the W60 category in a time of 50:47. Jennings is a six-times winner of the National Marathon. Paul Cowhie was first M55 in 35.59, with his Crusaders AC clubmate James Cottle first M60 in 40.12.  First junior overall as well was first U20 woman was Claragh Keane of DMP AC in 37:44.
A total of 2,225 completed the race.  Next round in the Dublin Race Series is the Frank Duffy 10 Mile in the Phoenix Park on 19 August (9am).
Mick Fogarty of Ferbane AC was the winner of the Edenderry 10-mile - the seventh and second last round of the Peugeot Race Series.
Fogarty finished in 53 mins 50 secs, followed by Gavin Kelly of Clane AC second in 55.37 and Andrew Nevin of Mullingar Harriers third in 56.17. Laura Mooney of Tullamore Harriers was first woman in 58.18, followed by Dundrum South Dublin pair, Sarah Mulligan in 62:51 and Niamh Devlin 62:58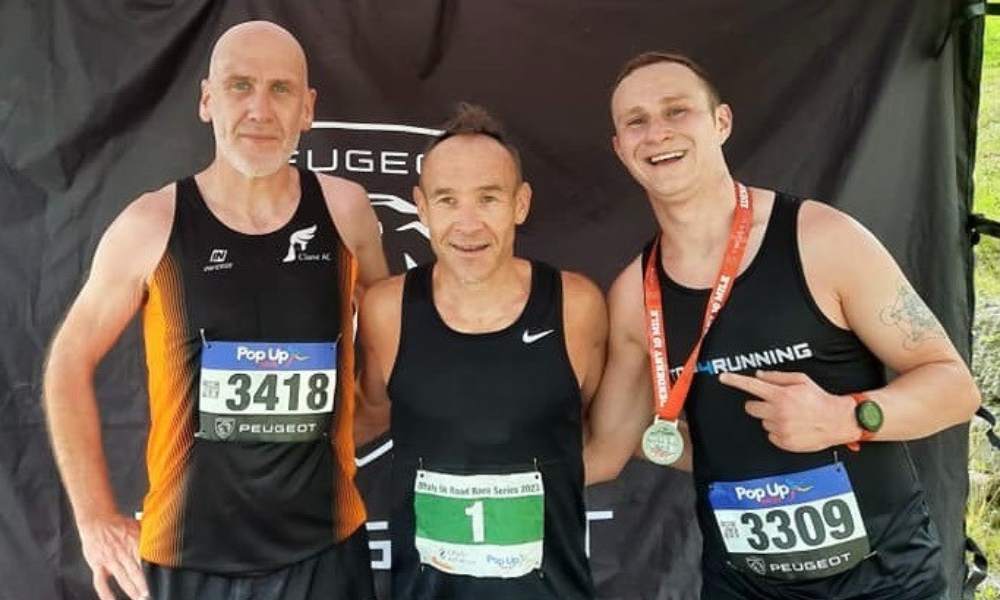 In the team competition, Peugeot League leaders Dundrum South Dublin AC still pulled off a narrow victory by 41 points to 47 over their closest rivals, Clane AC which meant they cannot be caught an ailing down overall victory with one race to go.  Making up the DSD team were Mulligan, Devlin, David Gormley, Maria McCambridge, Aidan Murphy, and Ruben Bartelik.  Third was Tullamore Harriers, with Mullingar Harriers, currently third on the overall table, in fourth place. An impressive eleven teams of six entered. Final round in the Peugeot Series is the Cork City 10-Mile on August 20.
[caption id="attachment_20370" align="alignnone" width="1000"]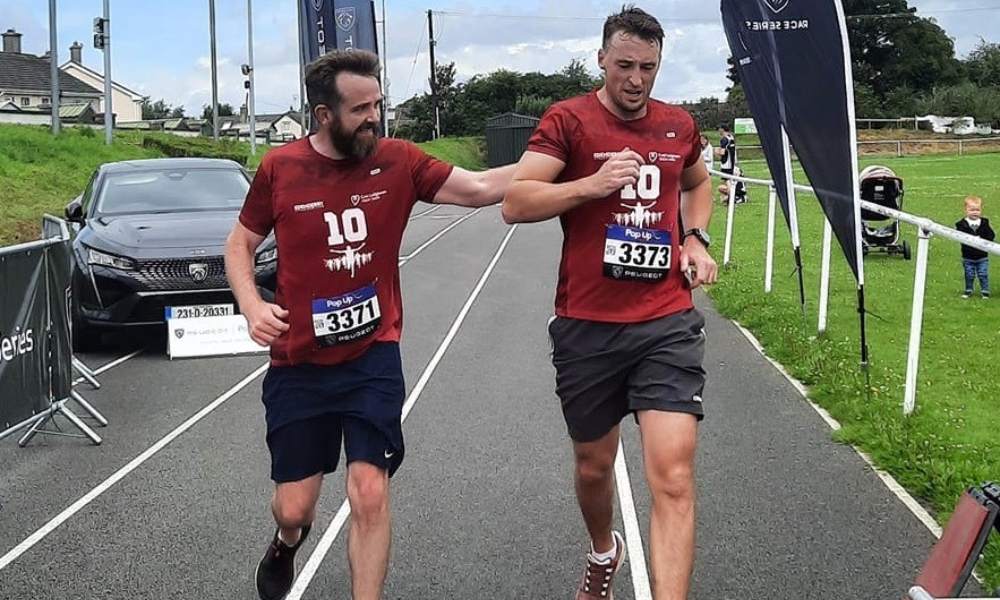 Well done! Dan Moloney and Stephen Geyng[/caption]
Winners of the Bere Island Midsummer Run 10km on Saturday (July 15) was Eoin Keegan in 36:24. First woman was Angier Meffan-Main in 48.39
Leevale AC's Mark Walsh led home 254 finishers at the Tracton AC 4-Mile at Minane Bridge, Co Cork, on Friday (July 14). His time was 20 mins 49 secs. Second and first M50 was Vivian Foley of Eagle AC in 50:58, with Donal Coakley of Leevale AC third in 21:04.  In the women's race Lizzie Lee was making it a Leevale double winning in 23:08, followed by Catherine Murphy of Eagle AC in 24:41, and Meadhbh Moynihan of Leevale AC in 24:55.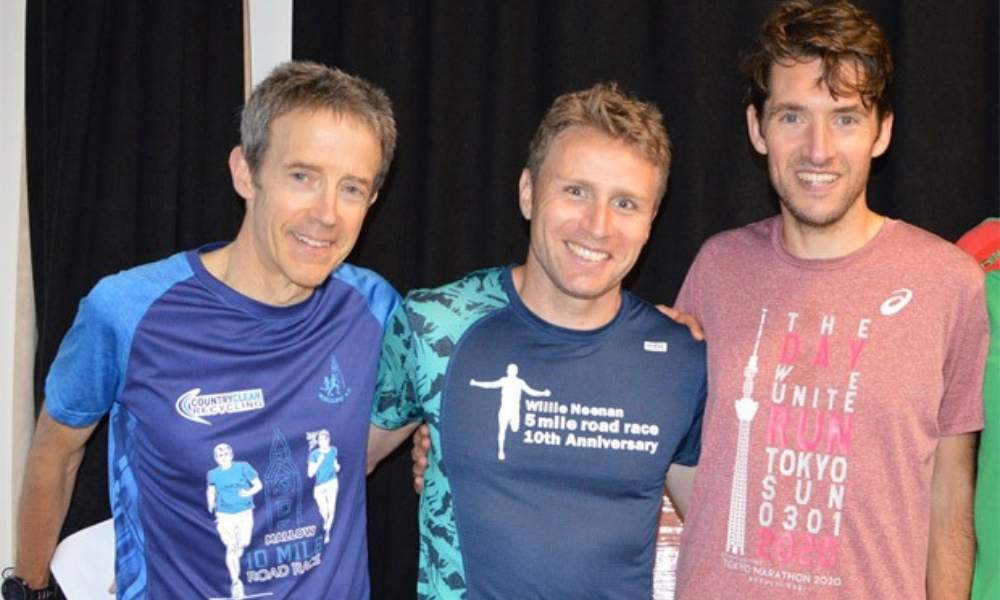 Winners at the Clerihen Ladies GAA 8km, also Friday, were Conor Flaherty of Clonmel AC in 28:01 and Kate Veale of West Waterford AC in 31.33. Cian Dunning and Deirdre O'Sullivan were the winners of the 5km.
SCHOOLS
At the SIAC Schools U17 Track and Field International In Grangemouth, Scotland on Saturday (July 15), the Irish schools team did well in the walks and the hammer, while Corey Scanlon won the boys' discus with 49.95m.
In the hammer, Thomas Williams won the boys' event with 64.50, while Caoimhe Gallen was second of the girls with 57.10. Mathew Newell won the boys' 3000m walk with Savanagh O'Callaghan the girls' winner. Noah Harris clocked 8:38.45 to finished second in the boys' 3000m, while in the boys' 800m, Caolan McFadden was second in 1:55.12. In the relays, Ireland was second in the girls 4 x 300m. Overall English came out on top.