"Our woodlands are green pharmacies that offer free prescriptions to those who are willing to spend a generous amount of time there." - Tom Gunning, 2022. 
Tom Gunning, in his excellent book Nature's Way: A Guide to Green Therapy, discusses the Japanese practice of forest bathing, an alternative technique that can improve a range of mental health issues while boosting our immune systems and supporting creativity, cognition, and problem-solving. Having spent countless hours walking and jogging the paths of Knockanacree Woods near the village of Cloughjordan in Tipperary, I can attest to Gunning's claims.
Knockanacree Woods spans over one hundred acres of land and is dominated by beautiful Beech trees. It is also accompanied by many Holly, Hazel, Scots Pine, Ash, and mighty Oak trees. The tall, grey trunks of these trees stand proud in random formation, resembling a fearsome army stretched as far as the eye can see. The green leaves, various colors of native Irish wildflowers, mingled with decaying brown leaves, exposed soil, and fallen branches provide a stunning spectrum of colors that any artist would be privileged to paint.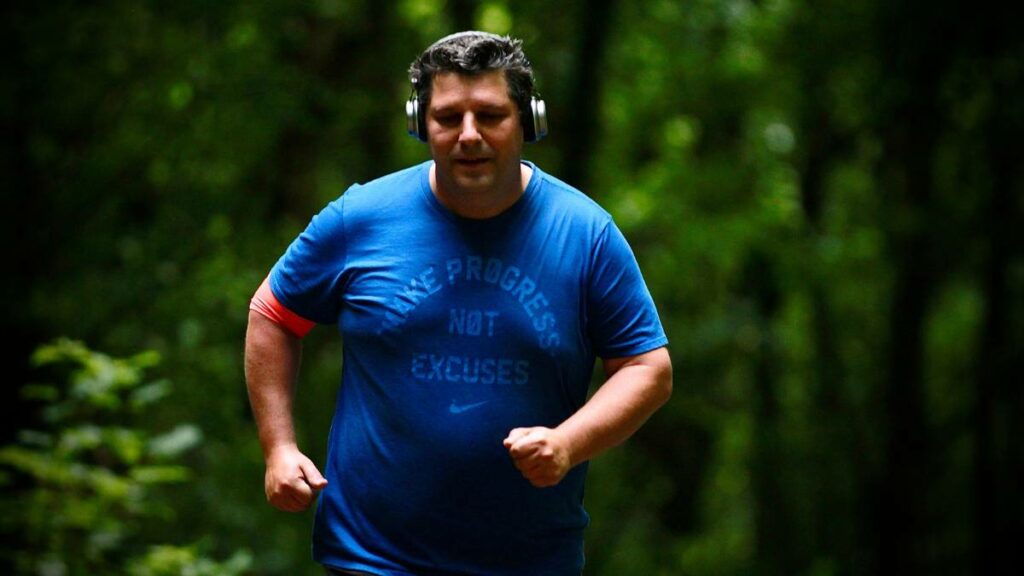 These trees serve as homes to Ireland's beautiful fauna, including shy foxes and red squirrels, which can be spotted hastily sprinting up trees. Many insects and invertebrates can be heard buzzing busily, going about their daily business. A magnificent chorus of birds regularly sings their hearts out, with the skyline dominated by the screeching of Buzzards.
With so many deciduous trees competing for sunlight, the woods change dramatically from season to season. Last Saturday, as I completed my 29th Parkrun there, I was struck by the darkness that contrasted with beams of light forcing their way through the leaf canopy, carpeting the trees. This contrast was especially pronounced compared to the scene in mid-winter when leafless branches enhance the sight of the cold grey trunks, exuding the harshness of lifeless Winter.
The people of Cloughjordan take pride in their hurling heritage, the eco-village, jockey Charlie Swan, and, of course, arguably their most famous son, Thomas MacDonagh, one of the leaders of the 1916 Rising. His life-size statue stands proudly just off the main square, with his head bowed as he reads the Proclamation, marching forward and leading us to the new Ireland he sadly never got to see. As you jog around the course, you will notice plaques with lines of his poetry scattered throughout the woods, where he used to play as a young lad, creating a sense of history as you follow in the paths where he once ran.
I have completed Parkruns in fifteen different venues, and while they all have their own unique characteristics, none can compare with Knockanacree Woods for its sheer dramatic beauty and the feeling of satisfaction when completing the challenging course.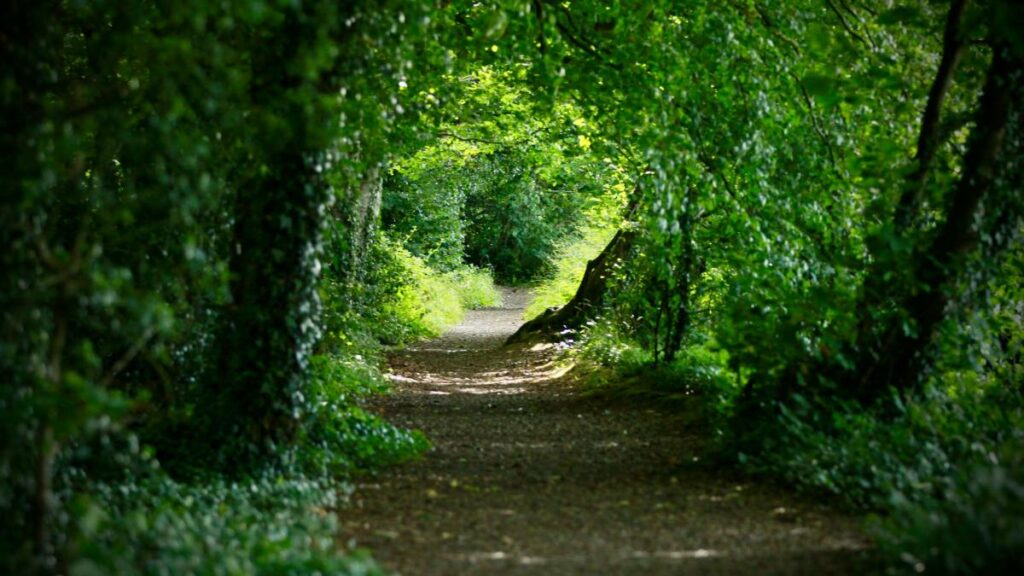 One of the unique characteristics of this Parkrun is that it is essentially a trail run. There are no paved pathways or concrete roads to jog on, and it is not suitable for prams or buggies. Trail runners are recommended. The paths have been formed over years of people walking and running on them, adding to the immersive experience of being in nature.
Anyone who has completed the course will testify that it is not one for achieving a personal best. Regardless of your average time for a 5km run, you should expect to add five minutes to it in Knockanacree. My Strava claims that the elevation is 129 meters, confirming it as a tough route.
The course consists of two laps through the woods, with the first half of each lap being mostly uphill. Experience has taught me to take my time on the first lap, as you'll need every ounce of energy for the second. As you begin the Parkrun at the main gates, you may be deceived by the gentle incline on the wider section of the path before arriving at the narrower paths on the edge of the woods. The route meanders, and you can rarely see more than twenty meters ahead, so the inclines are not immediately obvious, but your legs and lungs will make sure you know!
As The Stunning sing, "everything that rises has to fall," and eventually, the course takes a very welcome downhill turn towards the water station, hidden behind security fencing. A quick left-hand turn brings you down a narrow pathway parallel to the road, back towards the main gates, and lap one is complete. The second lap is slightly different, but it is well marshaled with plenty of cones laid out, making it impossible to go wrong.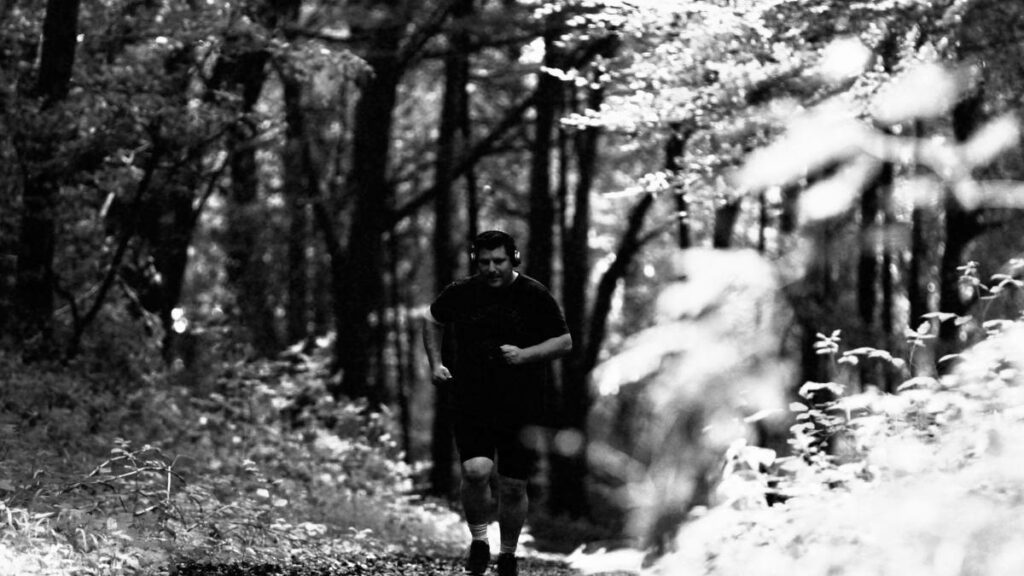 As it is one of the smaller Parkruns in the country (last Saturday, fourteen people participated, including the trail walker), you soon find yourself running alone. This allows you to take in the sheer beauty of the place, surrounded by countless trees, while getting lost in your thoughts. It truly is a meditative adventure to run here. Luckily, last Saturday, I was accompanied by Bella, a beautiful black Labrador belonging to my brother, whom I often bring with me on this run. Knockanacree is a very dog-friendly Parkrun, with three other regulars bringing their dogs here almost every week.
Knockanacree Parkrun is an exhilarating experience. It is an essential run for those interested in Parkrun Tourism and is definitely worth the trip to complete at least once. They have a dedicated group of runners and volunteers (whom I cannot praise enough) who make you feel more than welcome, and tea, coffee, and a range of goodies are available afterwards in the community's Middle Country Café in Cloughjordan.
Knockanacree Woods parkrun event statistics
Email [email protected]
Events: 142
Finishers: 771
Finishes: 3,577
Average finishers per week: 25.2
Volunteers: 95
PBs: 616
Average finish time: 00:35:44
Average finishes per participant: 4.6
Groups: 84
Female record: Siobhan O'DOHERTY – 20:02 – Event 2 (30 Mar 2019)
Male record: Tom LUPTON – 17:23 – Event 17 (13 Jul 2019)
Age graded record: Gary SCULLY - 77.38% 18:03 – Event 124 (25 Feb 2023)
Stats last updated: Sun 02 Jul 2023 01:25:53 UTC