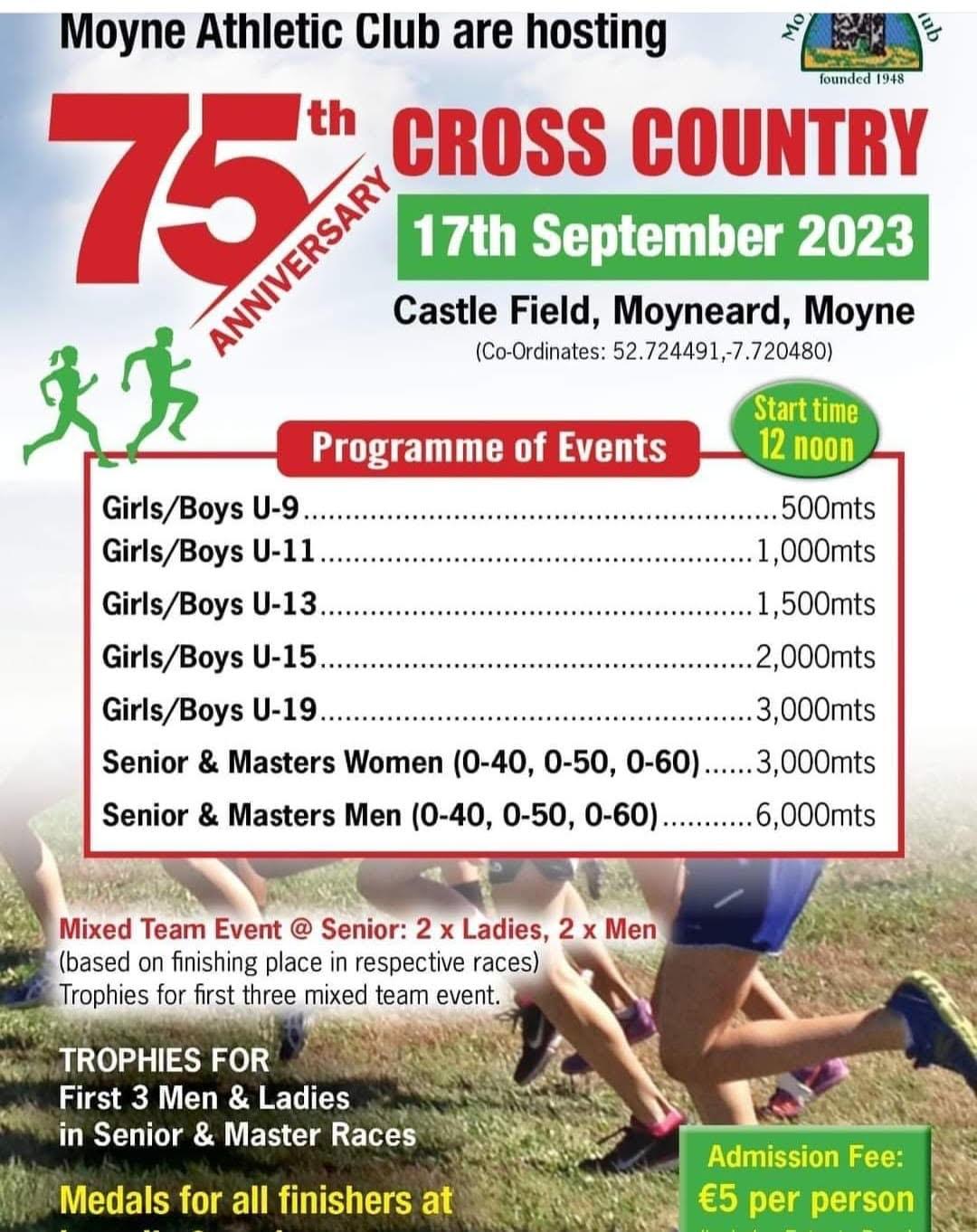 As Moyne Athletics Club gear towards their 75 th Anniversary, the club's famed Cross-
Country race returns to the historic Castle Field course in Moyneard, Moyne on September 17th.
A week out from this special race, Run Republic sat down with Martin Flynn of
Moyne AC and a stalwart of Athletics in Tipperary to talk about what makes this Cross-Country so special.
The landowners, Jim O'Meara and the Cantwell family, have kindly given the club
permission to use the renowned course which holds so much tradition both locally and
nationally, having held the All-Ireland Cross-Country races in 1980, '84, '88, and '99.
Martin spoke to us with great pride about what sets the Castle Field course apart from
other Cross-Country courses, and immediately professed "It's one of the best Cross-Country
courses in Ireland and one of the fastest and driest, after the heaviest rain, the course will be
dry."
Martin went on to wax lyrical about this special course, adding that "It's a real Cross-
Country course. You've got the ditches, you've got the dykes, and it's not one of those
European courses where they have makeshift ones, these are natural. When the course is
closed, those ditches will still be there!" "Some of the ditches are four or five feet high that
you must clear to get into the next field. It sets itself apart in that sense."
'There are a number of popular landmarks along the course, including the beech
ditch" which is an incredible line of beech trees on the already scenic course. Martin tells
Run Republic that there is also a great viewing area where you can see quite a bit of the
course and follow the athletes as they make their way through the course.
Martin explains that many Cross-Country runners will be attracted to the Moyne AC
Cross-Country as "they will be looking for a good race before the Cross-Country season
starts in October".
There are a number of events scheduled for the day, including a range of juvenile age
groups that taking part, from Girls/Boys Under 9 all the way up to Girls/Boys Under 19.
There is also Senior & Masters Women's and Senior & Masters Men's categories, with
trophies up for grabs for the top three in each of the Men's and Women's races in both
categories.

The Cross-Country also holds a Mixed Team event at senior level where two men
and two women make up a team, and trophies will be presented to the top three teams.
On top of all that, medals will be given to all finishers on the day, so why not make
the trip to Moyne and race on one of the truly historic and unique courses this country has to
offer? 
"Come for a good race, good competition, and you're going to get a great day out,
there's no doubt about it!"