Sarah Lavin of Limerick club Emerald AC proved the star of the National Track and Field Championships in Santry over the weekend (July 29-30) where she not only won her specialist 100m hurdles but also took the 100m title.  
On Saturday, racing into a +5.1 gale, Lavin won her lucky thirteenth national title - eight outdoors, five indoors - in a lucky time of 13.13 secs.  On Sunday, she not only added the national 100m spring title to her collection but ran it in a personal best time of  11.53.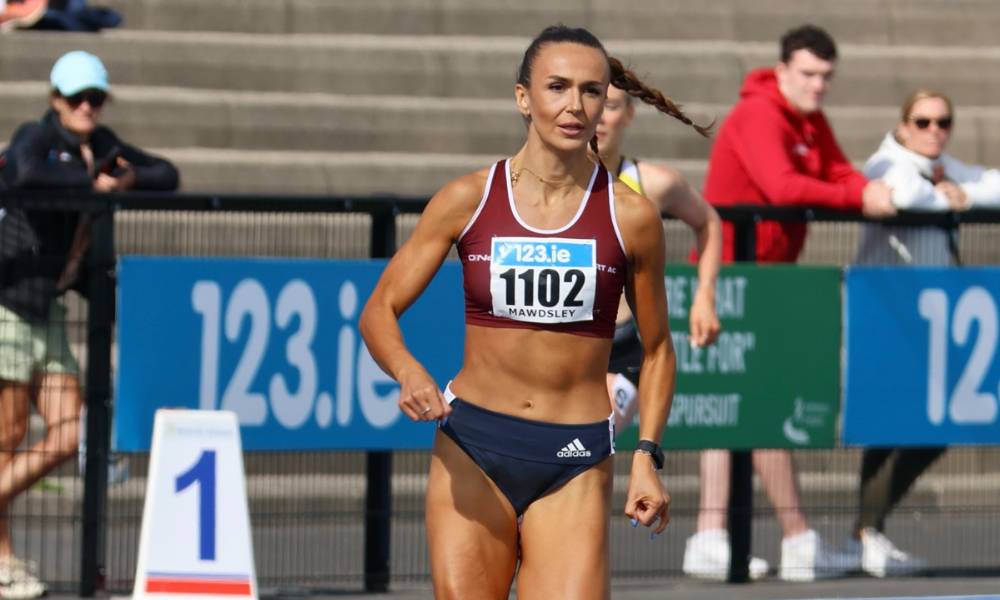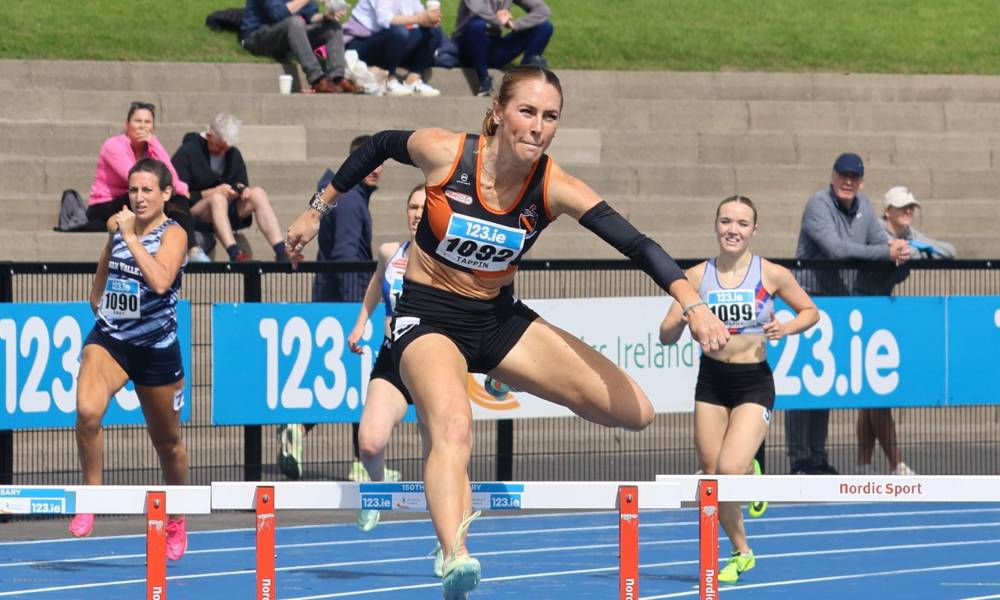 Lavin has already booked her place in the hurdles at the World Championships starting on 19 August, where she hopes at the very least to make the semi-finals. She will have one final race on Friday in Bern, Switzerland with her sights still set on Derval O'Rourke's record of  12.65 secs.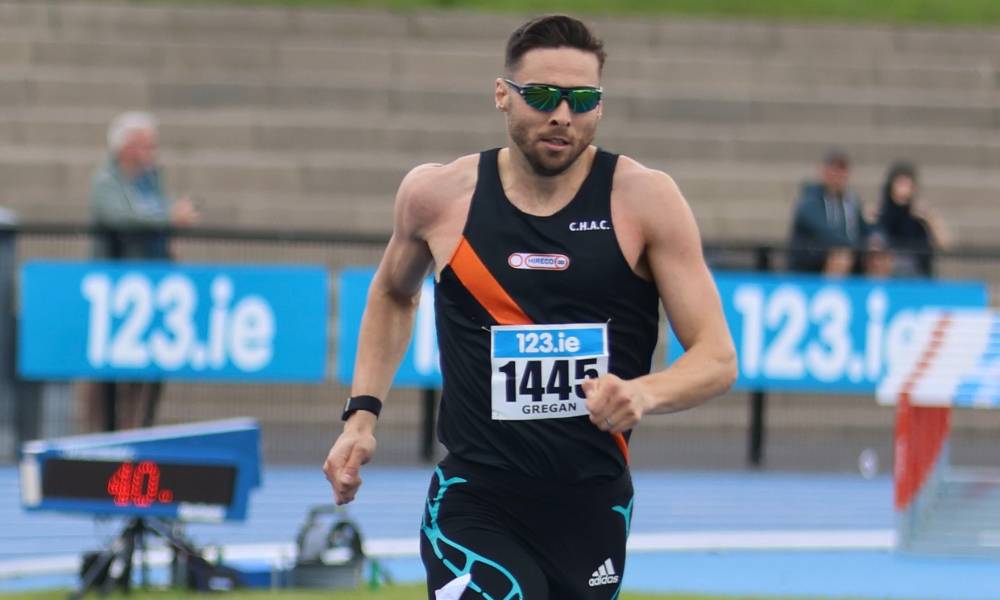 Winning a thrilling men's 110m hurdles title in 14.28 secs was James Ezeonu of Leevale AC who just pipped six times champion Gerard O'Donnell of Carrick-on-Suir AC on 14.29. Third in 14.95 was defending champion Matthew Behan of Crusaders AC.
A clear winner of the men's 200m was defending champion Mark Smyth of Raheny Shamrock AC who clocked in 20.87 despite running into a -2.2 headwind. Leevale AC's Colin Doyle was second in 21.17.  With Rhasidat Adeleke of Tallaght AC withdrawing from the women's race,  Katie Bergin of Moyne AC  won the title, also into a headwind,  in 24.60.
Also on Saturday, Michelle Finn of Leevale AC, whose hopes of a fast time were dashed by the weather,  won her tenth national steeplechase title in 10 mins 00.14 secs.
A thrilling women's 5000m was an early highlight on Day 2.  Form athlete was Íde Ni Dhomhnaill of West Limerick AC who had clocked times of 15:44.81 for 5000m and 33:24.10 for 10,000m  this summer, as well as looking unbeatable in a number of road races.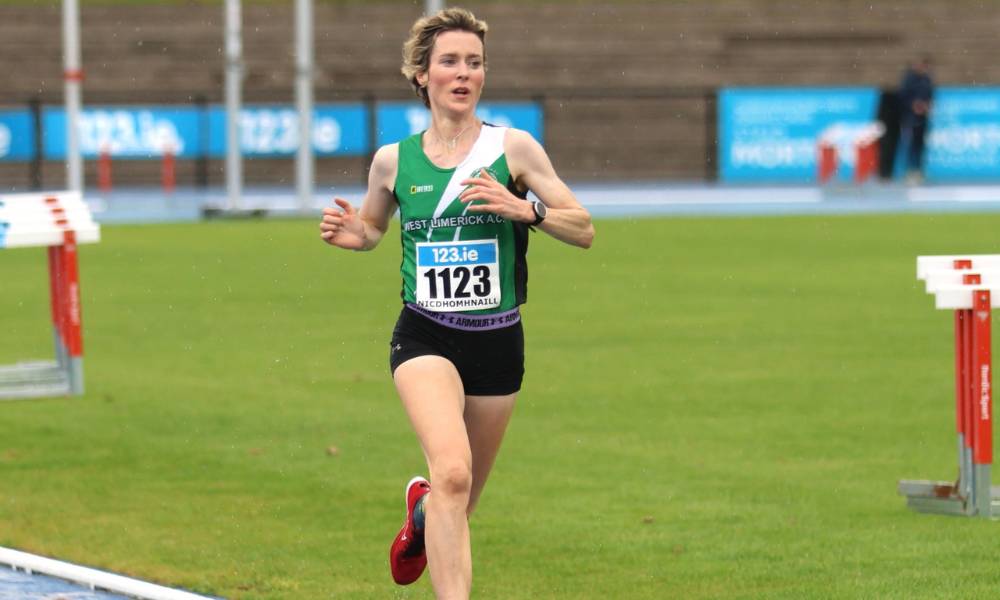 Shona Heaslip of An Riocht AC was another athlete coming into form at the right time, while Roisin  Flanagan of Finn Valley, who had run a time of 15:26.32 set last May, was looking for a World Championships qualifying mark.
Roisin's twin sister Eilish had also entered the race, and the sisters duly took over in front after the gun.  Attempting to stay in touch were Michelle Finn of Leevale AC, along with Nic Dhomhnaill and Heaslip. These three swapped places as the Flanagan continued to push ahead. With four laps to go, Eilish stepped off the track and Roisin, left on her own, began to lose momentum with the gap to the chasers shortening until Nic Dhomhnaill and Heaslip caught her with just over 800m to go. On the final lap Nic Dhomhnaill struck for home. In the battle for second place, Flanagan caught Heaslip in sight of the finish line. Finishing fourth was  Michelle Finn, who had won the steeplechase a day earlier, with Nakita Burke of Letterkenny in fifth place. A total of twenty-three women had entered the race, which augurs well for the fast-approaching cross-country season.
In the men's 5000m Brian Fay of Raheny Shamrock AC, who set an Irish record of 13:01.40 only a few weeks ago, proved the class of the field winning in 13:39.20 after shaking off the challenge of Mullingar Harriers' Cormac Dalton on the final lap. Dalton finished in 13:44.43 while third in 13:55.10 was Efrem Gidey of Clonliffe Harriers AC. Over fifty athletes had signed up for the men's 5000m which was divided into three races.  
Over the 800m distance,  reigning champion  Louise Shanahan of Leevale AC  was taking her third successive title in  2:03.14. Jenna Bromell of Emerald AC, who had run 2:01.80 earlier in the season,  and set a blistering early pace, was second in  2:05.16, with Georgie Hartigan of Dundrum South Dublin AC third in 2:08.98. 
John Fitzsimons of Kildare AC showed his class when winning the men's 800m in 1:47.13,  coming through from an awkward position on the inside with about 200m to go. Harry Purcell of Trim AC was second in 1:48.04, and Mark Milner of UCD AC third in 1:48.49. Recently crowned Irish 1500m record holder Andrew Coscoran of Star of the Sea AC had pushed the pace early in an effort to burn off the fast finishing 800m specialists and finished a creditable fifth in 1:48.67.
 In the men's steeplechase, pre-race favourite Finley Daly of Sligo AC won the men's title in 8:56.66. Also taking place on Sunday were the 400m hurdles finals, with Thomas Barr of Ferrybank AC defying the elements to win his eleventh title in a decent time of 49.83. Second in 52.96 was Thomas Pitkin of Clonliffe Harriers, who ran strongly but faded in the final 100m. Former English heptathlete Jessica  Tappin, running in Clonliffe Harriers colours, was first home in the women's 400m hurdles  in 57.20 secs, holding off the challenge of defending champion Kelly McGrory of Tir Chonaill AC who finished second in 57.47 and was taking her fifth national title.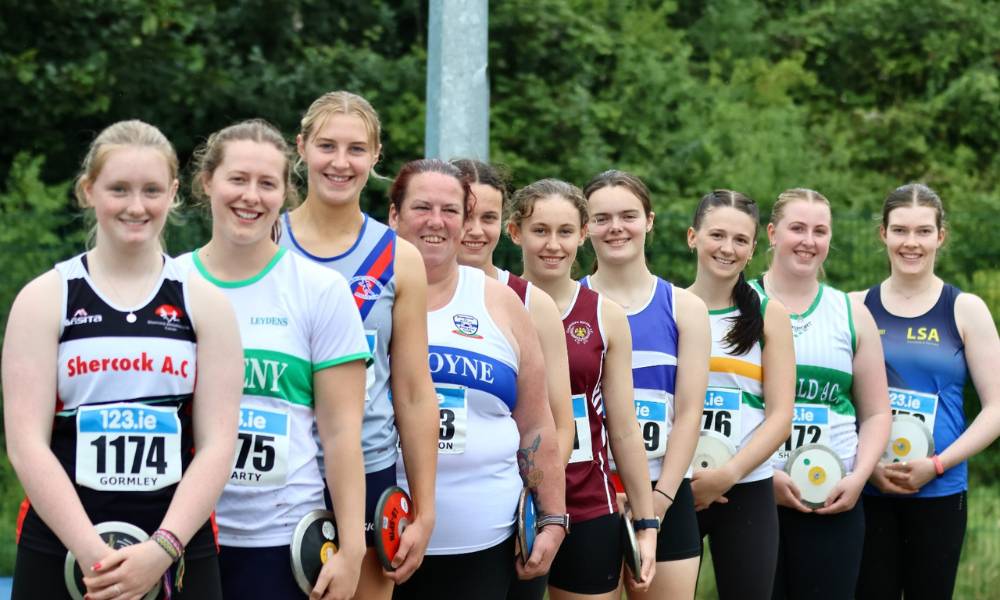 Winning the women's hammer on Saturday with a throw of 67.67 was Nicola Tuthill of UCD AC. Sean Mockler of Moycarkey Coolcroo AC successfully defended his men's hammer with 64:49. A clear winner of the women's shot for a sixth time was Michaela Walsh of Swinford AC with 15.17. Equally dominant in the men's shot was the 2019 winner Eric Favors of Raheny Shamrock AC with 19.91m. Favors is hoping to make the World Championships based on his current ranking. 
On Sunday, Niamh Fogarty of Raheny Shamrock AC, who missed a year of competition with a back injury, came out on top again with a throw of 49.77. Anna Gavigan of LSA AC was second with a throw of 47.08 and heads for the European U20 Championships in a few weeks' time. Winning the men's javelin was Oisin Joyce of Lake District Athletics in Co Mayo with a throw of 70.56. 
A new event for women was the 28lbs for height won by master athlete and coach Olga Nedvede of Dooneen AC with 4.40m. Nedvede went on to win the 28 lbs for distance a day later  with a championships record throw of 7.21. John Dwyer of Templemore AC won the men's 56lb weight for height with 4.00. 
Sommer Lecky of Finn Valley AC won the women's high jump with 1.80m, while jumping six metres exactly to win the long jump was Elizabeth Ndudi of Dundrum South Dublin AC. In the women's triple jump, Saragh Buggy of St Abban's AC continued her dominance of the event winning her eighth title and also finishing second in the long jump.
In one of the closest competitions of the weekend, Michael Alajiki of Dundealgan AC jumped 14.74m on his sixth and final attempt to seal victory. Five centimetres behind on 14.69 was Conall Mahon of Tir Chonaill AC with Jai Benson of Lagan Valley AC just a centimetre behind again on 14.68 for third.
Two brilliant 1500m race late on Sunday provided a fitting finale to the championships. 
Indeed the women's 1500m was perhaps the most anticipated race of the weekend  with Sophie O'Sullivan of Ballymore Cobh AC  and Sarah Healy of UCD AC, who had finished first and second at the European U23 championships a fortnight earlier, due to battling it out again. 
This time victory went to the more experienced Healy,  who had the faster time on paper and ran a smart race, speeding up the pace and slowing it down again until the final bend when she pulled away for victory in 4:11.39. O'Sullivan, who fought all the way to the line, was second in 4:12.00 and Ellie Hartnett of UCD AC third in 4:30.58. It was a third national 1500m title for Healy.
In the men's race, defending champion Cathal Doyle of Clonliffe Harriers ran a tactically smart race to retain the title, beating young pretender Nick Griggs of the Belfast Candour club, who will head for the European U20 Championships in a few weeks' time. With the two breaking away on the final lap, Doyle took over in front when turning into the finish straight and then protected his lead for victory in 3:40.11. Griggs was second in 3:40.64 and Shane Bracken of Swinford AC third in 3:42.05. 
*Edenderry AC's Cian Crampton threw a personal best of 59.32m to win a bronze medal in the boys' discus on the final day of the European Youth Olympic Festival in Maribor, Slovenia.