While all eyes will be on Kenya's Eliud Kipchoge, the world record holder and the greatest of all time marathon runner, at the 2022 Berlin Marathon;  it will be interesting to note that Irish's Stephen Scullion was just two runners behind him at the 2020 London Marathon event. 
The Berlin Marathon has earned itself the name of being the fastest marathon course in the world, and, interestingly, Scullion has never run on this course before. But the 33-year-old will do this on Sunday.
There will be pressure on him to try and better his personal best time of 2:09:49. Perhaps, in the process, he will beat the World Athletics championship qualification of 2:09:40 and get to represent his country at the World Championships in Budapest, Hungary, next year.
Scullion ran his best time at the London marathon in 2020, a race he finished in 11th place.
The Irish runner who holds national records for the 25K, the 30K, and the marathon (on a record-eligible course) has been an inspiration to many, especially after taking up running to help him quit his drinking and smoking habits. The fastest marathon time ever run by an Irish man was by John Treacy at the Boston Marathon in 1988 where he ran 2:09:15. But the Boston course that has a net downhill elevation does not meet the World Athletics standards to register official times.
"I tried to think of one time where alcohol has actually done something good for my life, and I couldn't think of one thing. I think I used to not drink because of running, that training would be better the next day. Whereas this time, before Christmas, I made the decision I was going to do this for me. I do all this work to try improve my mental health, try to be happy, and then to go ruin it, just by being greedy with alcohol. I just decided I don't want to do this anymore." Scullion told an Irish Times journalist last year.
With the impressive personal best times for the 10K (28:36.05), the half marathon (1:01:08) and the marathon, Scullion is unfortunately yet to have a major marathon title under his name, but believes that he still has a lot to achieve in his career as a runner. However, he has come close to that by finishing second at the Dublin Marathon in 2019.
[caption id="attachment_17501" align="aligncenter" width="542"]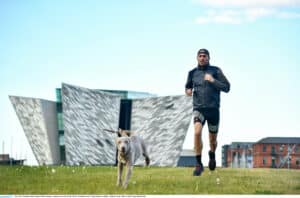 7 May 2020; Irish Olympic Marathon Runner Stephen Scullion during a training session with his dog Nala the Weimaraner at the Titanic Quarter in Belfast, Northern Ireland. Photo by David Fitzgerald/Sportsfile[/caption]
Inspiring stories like Scullion's; of runners who show what running can do to change lives help make the world a better place. Watching out for Scullion on the streets of Berlin on Sunday will be interesting.