Abel Kirui singing in church with his family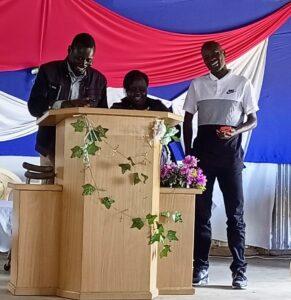 They say; no news is good news. The statement could also mean that good deeds don't make news. The only way a story on a Kenyan marathon runner is read widely is about them getting implicated in a court case, a doping offence, or anything else negative. 
That's why perhaps a few may proceed to read this article on some of the wonderful deeds of some of the amazing Kenyan marathon runners below.
At the beginning of this year (January 2022), a young man riding a motorcycle around Eldoret town was hit by a speeding vehicle on the Eldoret-Nairobi highway and ended up unconscious. He was rushed to Moi Teaching and Referral Hospital, where he was labelled as an "unknown" person as they tried to stabilize him.
After a while, some workers in the hospital recognized him. He was one of the church members to whom the two times world marathon champion Abel Kirui had donated a parcel of his land for it to be built. Together with the church members, Kirui helped foot the hospital bill as the young man's family lived far away in a different part of the country and could not be in a position to help.
When the young man was relatively stable but still bedridden, Kirui took him to his home and made him part of his family. He has cared for him at home for more than eight months.
Kirui, when he was asked to introduce his family at an event in the church, called the young man, who was finally able to walk on crutches and introduced him as part of his family.
They then sang a song together.
This is just one of the many great deeds that Kenyan runners do in their communities, where they are the role models of the younger generations who hope to emulate them when they grow up as well.
A third place at the Boston Marathon and seventh place at the London Marathon this year brought out the story of Mary Ngugi, who has undertaken to provide a haven for the young female runners in Kenya.
"When you're a young female athlete surrounded by men in a camp, you feel you have to do whatever they want. You are manipulated to do things, and when you say no, you're afraid of the consequences," Ngugi wrote in her story on the Spikes website.
After the death of Agnes Tirop, who her husband and coach allegedly murdered, Ngugi saw the need to establish a camp where young girls would feel safe from being exploited by men. So far, she has started with five girls and hopes that she will be able to get more resources to expand the camp.
While Micah Kogo, the Beijing Olympic 10,000m bronze medalist and Mark Kiptoo, the African and two times World Military Games' 5,000m champion, used to train together at the Pace Sports Management camp in Kaptagat forest, they would use their vehicles to ferry runners down to the Kipchoge Stadium in Eldoret to do their speed workouts twice a week. They would even buy them lunch at a hotel on their way back to Kaptagat.
Many established Kenyan runners help provide accommodation, donate their training shoes and facilities to the upcoming runners, and let them join their training groups for free.
In individual and concerted efforts, they support their communities in different situations, from health to education.
But, it appears like there is little focus from the local and international media on the positive side of the hardworking Kenyan marathon and long distance runners.