Friday the 25th of August saw the warm up event to the Clearer Water sponsored Antrim Coast Half Marathon take place. While the longer event may take the main headlines, the Classic Street Mile has become a fantastic race experience for those wishing to test themselves over the legendary distance.
The evening saw perfect conditions, the rain held off and there was very little wind. Crowds began to gather in the square of the port town of Larne, a stone throw's away from the stunning coastline that would see it's own race action in two day's time. Numbers were collected and soon the first race was ready to go, the kids' mile. They were off a breakneck pace round the relatively flat one lap course, the roads closed to traffic. Swinging left, under a bridge, down to a roundabout, another couple of left turns and then onto the long home straight with the finishing gantry beckoning in the distance.
Each child got a medal and then the selfies began with running celebrities such as Gemma Steel and Jo Pavey happily mingling with the masses.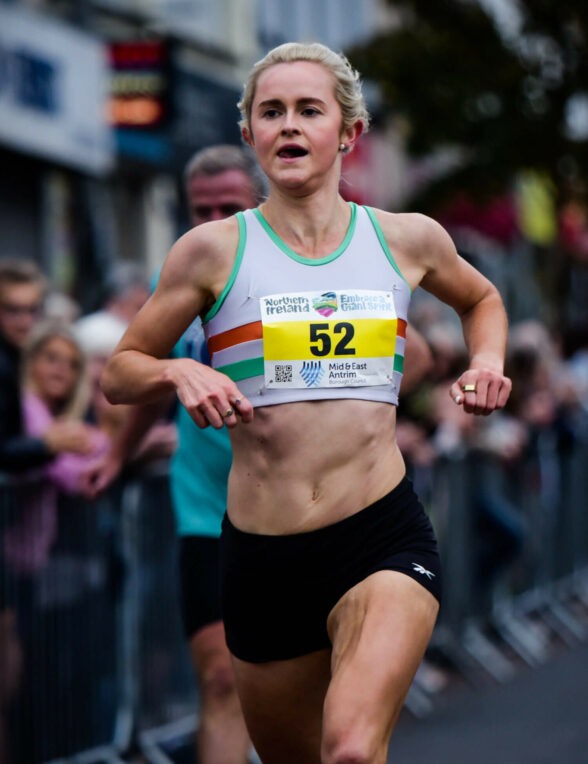 Next was the open race, the camera quad bike leading the way again. This was followed by the elite women's race which was won by Ugandan Winnie Nanyondo. The course lends itself to spectators, it is easily possibly to watch the start, head down an alley and across a car park to cheer on the athletes round the back of the lap and then return to see the finish.
The final race of the evening was the Elite men's race and Stefan Nillessen took the win in an impressive 4:01, accompanied by great support from the crowd. It would seem that the organisers' wait for the first sub-4 may not last much longer.
So watch out for the 2024 Classic Street Mile, entry is via the main Antrim Coast Half Marathon website