A number of races over the past week attracted entries of over 400, among them the Roscommon Harriers 10-mile on Saturday (July 1) and the St Coca's 5km, in Kilcock, Co Kildare on Friday (June 30) which had an entry of almost 600. It meant that thousands were out on the roads of Ireland – and especially Munster – last week. And that's not counting Parkruns. 
Race wins for Paul O'Donnell and Meghan Ryan, at the Roscommon Harriers 10-mile on Saturday (July 1) consolidated Dundrum South Dublin AC's lead at the top of the Peugeot Race Series.
Not only that, but the Dublin club took the first three places in the men's race. O'Donnell, home for the summer from his US college, finished in a time of 51 mins 15 secs, followed by Killian Mooney in 51:54 and Emmett Jennings in 53:12.
Clane AC, currently second on the series table, were led home by Gavin Kelly who was fourth and first M40 in 54.48.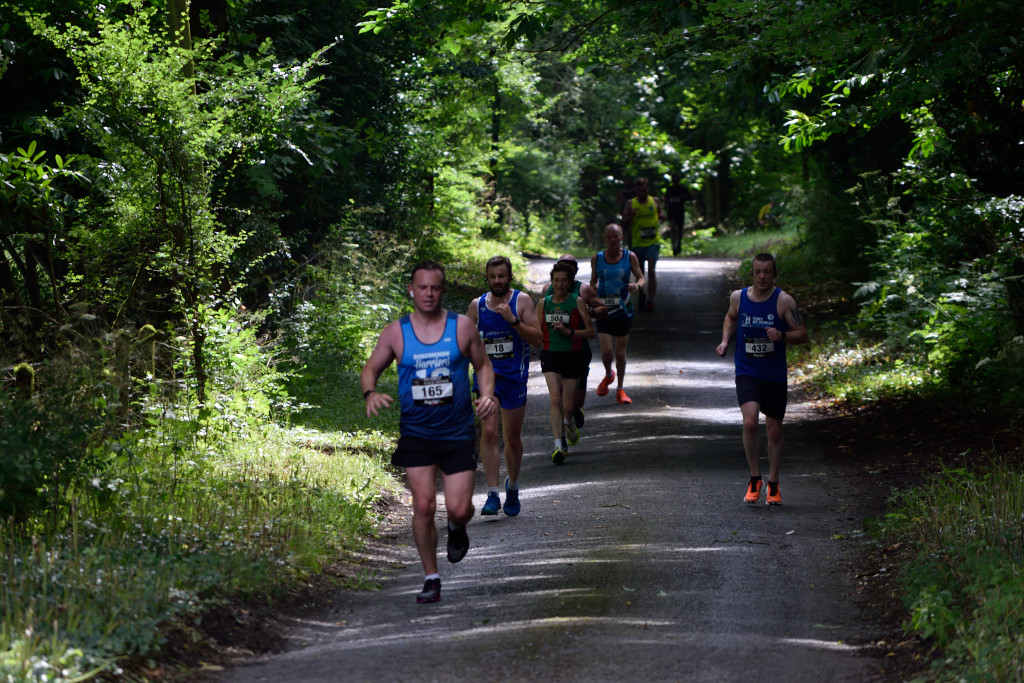 In the women's race, Ryan in 59:52 was followed home by Isobel Oakes of Sligo AC in 60:36 and Kate Kelly of Athlone AC in 61:16.  With Sarah Mulligan fourth and Niamh Devlin fifth, DSD again won the mixed team category (three men and three women). Mullingar Harriers was second and Clane AC third.
Runners had travelled from all over the country for the St Coca's 5km in Kilcock, Co Kildare, on Friday evening (June 30) where Efrem Gidey of Clonliffe Harriers ran a course record time of 13 mins 47 secs when leading home almost 600 finishers.
Winning the battle for second place was David Scanlon of Rathfarnham WSAF AC in 14:42, followed closely by Stephen Cashin of Clonliffe Harriers in 14.43 and Stephen Fay of Raheny Shamrock AC in 14:44. First junior in 15:234 was Mahad Egaal Jadda of Clonliffe Harriers in 15:23.
First of the women was Shona Heaslip of An Riocht AC in 15:43, with Íde Nic Dhomhnaill of West Limerick AC just four seconds behind for second in 15:47 and Nakita Burke of Letterkenny AC third in 16:05.  Fourth and first W40 was Ann Marie McGlynn of Letterkenny AC in 16:34.
Friday was a busy night for racing and at the Willie Neenan 5-Mile in Millstreet, Co Cork, Leevale AC's Mark Walsh  was the winner in 25:46 with Martina Kiely of St Finbarr's AC first woman in 28:54.
Winners of the Courtmacsharry 10km, also in Co Cork, were Jeremy O'Donovan of St Finbarr's AC in 33:08 and Aoife Cooke of Eagle AC in 34.51; 396 finished the race, the largest entry since 2017.
Winning the Ballymacarbry 5-Mile in Co Waterford by almost two minutes with a time of 24:59 was Evan Fitzgerald of Clonmel AC. Second and first M40 in 26:58 was Dermot Gorman of Carrick-on-Suir AC with Paddy Cummins of Moycarkey Coolcroo AC third in 27:40.
Kate Veale of West Waterford AC was first woman in 30:48, followed by clubmates Niamh O'Donovan in 33:26 and Grainne Moore, who is still a junior, in 34:08.
At the Ards Half Marathon, in Co Down, Craig McMeehan of North Down AC was the winner in 71 mins 58 secs. Jared Martin of Ballydrain Harriers was second in 72:23 and Dale Murray of North Down AC third in 74:03. Ivana Anderson was first woman in 80:10, with Fiona McQuillan of North Down AC second in 85:15 and Amanda Perry of Ballydrain Harriers third in 89:44.
THESE ONES WE RAN EARLIER
On Thursday evening (June 29)  in Co Cork, master athlete Michael Harty of the East Cork club, was out on his own when winning the race in 14:53. Junior athlete Robert Troy of Liscarroll AC – fourth in the Irish Schools senior steeplechase – was a surprising second in 15:37 with Tony Forristal of East Cork AC  third in 15:41. Lizzie Lee of Leevale AC notched up her second win of the week in a time of 16:51 Nadine Forde, also Leevale AC took second in 18:15 followed by Vicki Spiteri of Midleton AC third in 19:17.
In Co Clare, Kenneth Rodgers of St John's AC won the final race in the Run the Banner series for 2023  at Ennis, Co Clare in 15 mins 15 secs also on Thursday. First woman in 18:45 was Anne Marie Connellan of Ennis TC .
Still in Munster, James McCarthy and Sharon Rynne were the winners at the DePuy Synthes BHAA 4-Mile, in Ringaskiddy, Cork on Wednesday (June 28).
McCarthy, of Rooskagh Coffee Co finished in 21 mins 9 secs, with Donal Coakley of Gilead Sciences a close second in 21;12 and John Meade of Dept of Ed third and first M40 in 21.30. Rynne of Kepak finished twelfth and first woman in 24:07. Michelle Kenny of Dept of Ed was second  in  24:11 and Meadhbh Moynihan of Complete Financial third in 24.58.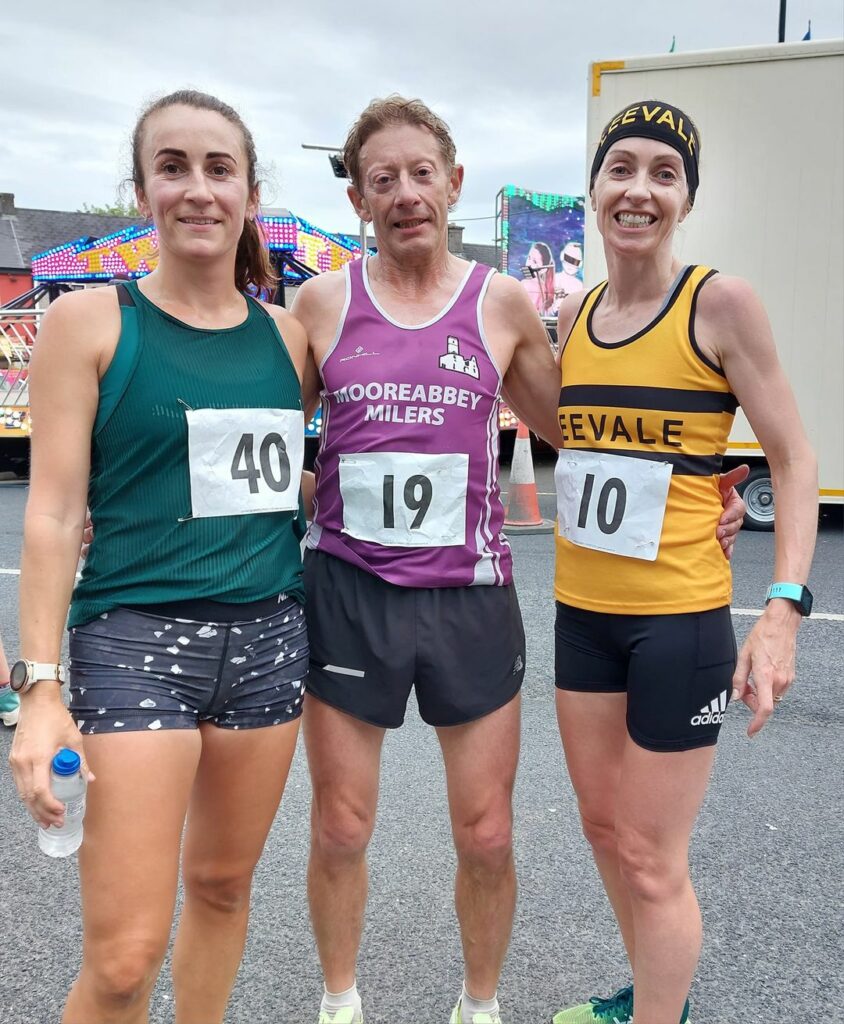 Not many races take place on a Monday night but one exception to the rule is the Dromcollogher 4-mile which has now been on the go for well over 40 years as part of the local carnival. Winners were Karl Lenihan of organising club West Waterford AC in 21 mins 3 secs and Leevale AC's Lizzie Lee in a course record 22:32.
CZECH RECORD FOR HEALY
Middle distance track performance of the week came from Sarah Healy of UCD AC  who broke her own Irish U23 record  for 1500m  with a time of 4:01:75 at the Golden Spikes meet in Ostrava, Czech Republic on Tuesday (June 27). Healy finished fourth in the race. Her previous best of 4:02:86 was also set in Ostrava in May 2022.
After a personal best 12.73 secs for 100m hurdles at the Stockholm Diamond League meet on Sunday, (July 2) Sarah Lavin of Emerald AC is looking forward to racing at the Morton Games in Santry on Friday July 14 - her first home race this season. Lavin finished second in the race behind Tobi Amusan of Nigeria who finished in 12.52 secs.
In the 1500m, Ciara Mageean of City of Lisburn AC ran a time of 4:03.4 for fourth place behind three Ethiopian athletes, led by Freweyni Hailu in 4:02.31.
Having a busy weekend were Nicholas Griggs and Callum Morgan, both members of the newly formed Candour club in Belfast.
On Saturday (July 1), at the BMC meet in Watford, Griggs won the A 1500m in 3:40.63, while Morgan lined out in the 3000m finishing 17th in 8:03.93.
A day later, the pair were in Tullamore for the All Ireland U23 and U20 Track and Field Championships, where Griggs won the U20 1500m comfortably in 3:45.9.  Morgan had a tougher time of it in a a closely fought U23 1500m, which he did manage to win in 3:57.20 despite the best efforts of Ennis TC's Mark Hanrahan second in 3:57.71 and Frank O'Brien of East Cork AC third in 3:57.77.
Winning both the U23 1500m and 800m was Sophie O'Sullivan, with times of 4 mins 27.92 secs in the 1500m and 2:10.4 in the 800m.
Over 5000m, Anika Thompson of Leevale AC was the women's U23 winner  in a championship record time of  16:38.32 . Winning the men's race in 15:03.19 was Shay McEvoy of Kilkenny City Harriers followed by Abdel Laadjel of Donore Harriers second in 15:05.82 and Michael Morgan of Sligo AC third in 15:09.24.
A comfortable winner of the women's hammer was UCD AC's Nicola Tuthill who threw 64.89m, and who, like Olatunde and Healy, is heading for the European U23 Championships in Finland in less than a fortnight.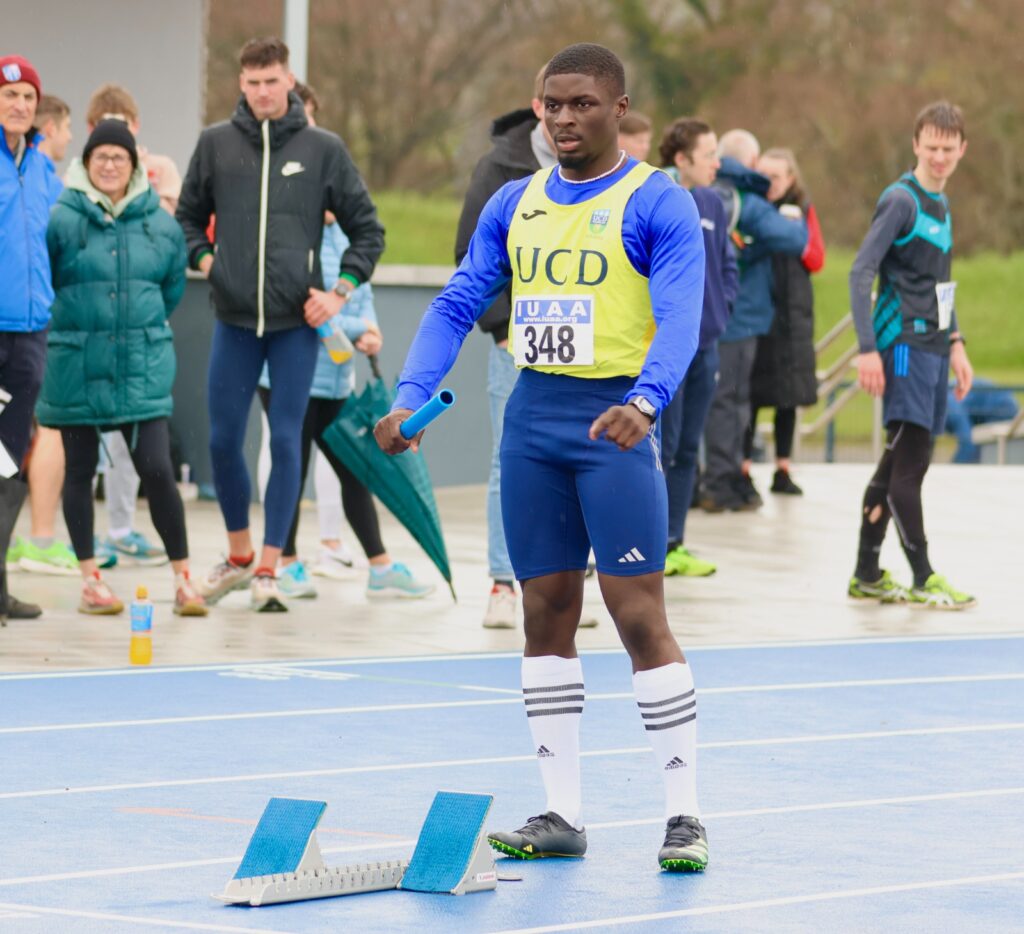 In the U20 championships, Jonas Stafford of Ashford AC proved the class of the field in the men's steeplechase winning in 9:09.05, while in the women's 5000m, Louise O'Mahoney of BMOH in Co Clare set a championships record of 16:48.65. One of the big performances of the day was from Anna Gavigan of LSA AC who broke a 44-year-old Irish record when winning the discus with a mighty throw of 49:32. The distance was comfortably over the 47.50 B qualification mark for next month's European U20 Championships.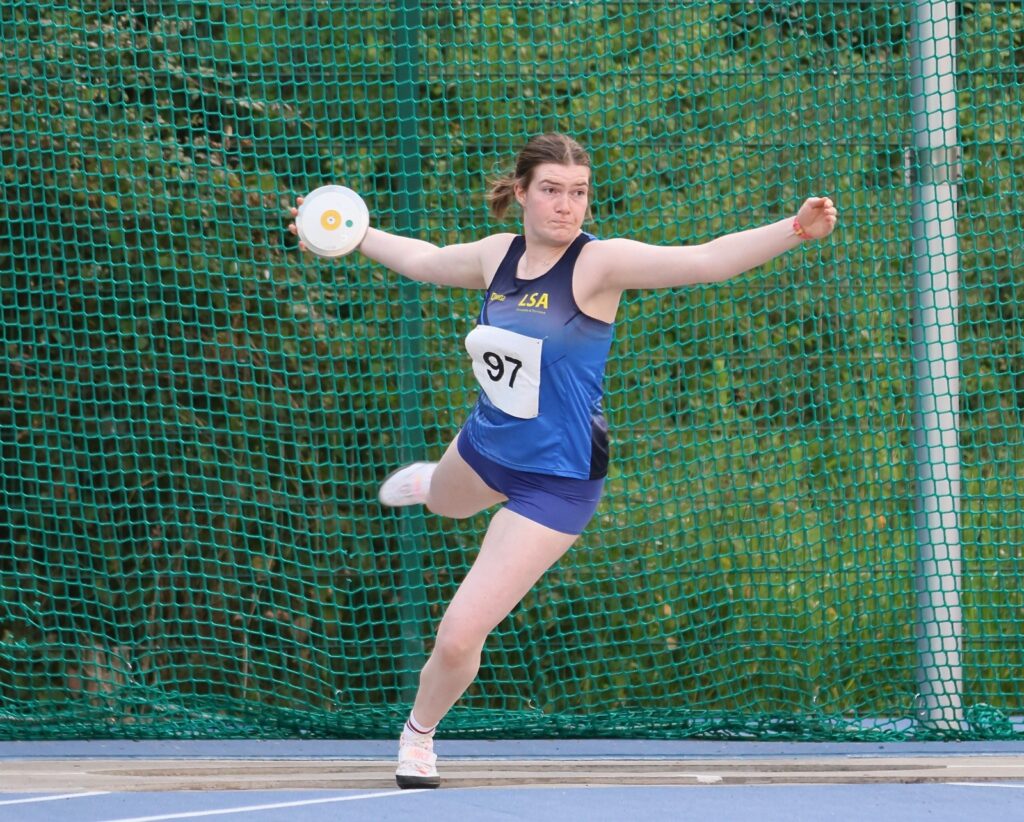 In the long jump, Elizabeth Ndudi of DSD AC set a new championships best of 6.30 for victory. Only a week earlier in Germany, Ndudi, who is based in France, jumped 6.44m which is an Irish U20 record and two days later, ran a personal best 11.83m for 200m. For many of these, places places on Irish teams for the three European underage championships coming up were at stake. First off is the European U23 Championships in Espoo Finland, 13-16 July, followed by the U18 European Youth Olympics, Malibor, Slovenia 23-29 July and the European U20 Championships in Jeruselem, 7-10 August.
At the BMC Grand Prix, Mark English of Finn Valley AC won the B men's 800m in 1:47.27, which was the fastest time across eight heats. Cillian Kirwan of Raheny Shamrock AC clocked 1:49.73, Roland Surlis of Annalee AC 1:50, 51 and Louis O'Loughlin of Donore Harriers 1:50.61.
In the women's A race, Georgie Hartigan of DSD AC was fifth in 2:04.44, while Susie Nestor of UCD AC ran 2:09.79.
In the A 1500m won by Nick Griggs, Charlie O'Donovan of Leevale AC was fifth in 3:41.61, while fastest of the Irish women in the 1500m with a time of 4:20.60 was Niamh Carr of Ballymena and Antrim AC. In the men's A 3000m, Fearghal Curtin of Youghal AC was fourth in 7:50.00.
Catch-Up
Cian McPhillips of UCD ran a personal best 1:45.92 for 800m, putting him top of the current Irish rankings at Ordizia, Spain, on Saturday 24 June. McPhillips, who finished fourth in the race, was followed home in seventh place by Harry Purcell of Trim AC in 1:47.38.
IRISH TEAM FOR ESPOO
A team of 32 athletes will compete at the 2023 European U23 Championships in Espoo, Finland, from Thursday 13 July to Sunday 16 July. The selections include 24 individual competitors along with men's 4x100m and 4x400m squads.
Included in the squad are 1500m runners Sarah Healy of UCD AC and Sophie O'Sullivan of Ballinamore Cobh AC, currently ranked first and second in Europe for this age category. Both have posted lifetime bests this season with Healy setting a national U23 record and European leading time of 4:01.75 in Ostrava on 27 June.
Ava O'Connor of Tullamore Harriers in the steeplechase, Oisin Lane of Mullingar Harriers in the walk and Nicola Tuthill of UCD AC in the hammer all set championship records at the Irish U23 Championships in Tullamore on Sunday (July 2).
Coming up:
Tuesday July 4
Lord Mayor Two-Mile Series, Rd 5 (of 13), Raheny, Dublin, 8pm. www.rahenyshamrock.ie
Wednesday July 5
Dublin Graded T-F Meet  Rd 6,  DSD Track, Tibradden Lane, 7pm.  Dublin C'ships 200m and PV; 800m, 3000m,  TJ, JT. www.dublinathletics.com
Oldcastle 5km, Co Meath, 8pm. AI Permit. Entry €15 adule, €10 U16. C: Gerard 086 2499886/Ann 087 1934194. www.popupraces.ie
St Abban's 4km Summer League Rd 5, Moneenroe, 7.30pm; reg 6.45pm. Entry €5. C: 087 2421002
Hills: Ticknock-Three Rock (8.5km, 344m), Co Dublin, 7.30pm. www.imra.ie
Coillte 10km/5km, Dundrum, Co Tipperary, 8pm. Souvenir hand towel all finishers. www.premiertimingsystems.ie
Sterling BHAA 5km (formerly Novartis), Ringaskiddy, Cork. www.corkbhaa.com
Hills: Kilworth Woods (8km, 150m), Co Cork, 8pm. www.imra.ie
Thursday July 6
Robbie Steele Memorial Corkbeg '4', Whitegate, Co Cork, 8pm. AI Permit. www.corkathletics.org
Friday July 7 - Sunday July 9
European Masters Trail and Mountain Running  Championships, Adelboden, Switzerland. https://adelboden.ch/en/emorrc...
Friday July 7
Mick Murphy Memorial 5km, Ferns, Co Wexford, 7.30pm. AI Permit. Online entry €15 plus charges. Facebook; www.popupraces.ie
Deise College 10km, Co Waterford,7.30pm. AI Permit. West Waterford Summer Series. www.westwaterfordathletics.org
Greyabbey 10km/5km, Newtownards, 7pm. ANI Permit. C: Raymond Murray 07432533515
Saturday July 8
All Ireland Juvenile T-F  Championships Day 1, Tullamore, 11am. www.athleticsireland.ie
Clontarf Half Marathon/5-Mile, Dublin, 10am.AI Permit. www.myrunresults.com
Run Kilkee Half Marathon/10km, Loop Head Peninsula, Co Clare, 10am. www.runkilkee.ie
Glenbeigh Glencar GAA Marathon, Half Marathon, 10km, 5km, Co Kerry, from 8am. Shuttle bus to start at Glencar. AI Permit. Facebook.
Race2Glory (cycle, run, river run) 40km, Kiltimagh, Co Mayo, 8am. C: 086 864 6774; www.runireland.com
Grey Abbey Endurance Challenge, Grey Abbey Estate, Newtownards, 7am. C: George McGonigal 07905556173 www.gaithouseevents.com.
NI Club League, Mary Peters Track, Belfast. www.athleticsni.org
Sunday July 9
All Ireland Juvenile 'B' Championships with Relays, Tullamore. www.athleticsireland.ie
Hills: Arderin-Clear Lake Loop (13.5km, 400m), Co Laois, 11am. www.imra.ie
Mooreabbey Milers AC 10-Mile, Galbally, Co Limerick, 11am. AI Permit. Online entry €25 plus fees. Cash prizes. C: [email protected] or  Facebook.
Star of the Laune Open Sports Day , Co Kerry, 11am. AI Permit. Onlien entry at Eventmasters €25 plus charges; cash prizes top three M/W and O40, 50, 60, 70
The Great Rossa Run, Ardboe Hall, Ardboe, Dungannon, Co Tyrone,10am. ANI Permit. C: Shane Mallon 07557447436