COILLTE 10K
Our 38th Annual Coillte 10k was a huge success on Wednesday, July 5 with a record number of finishers with 285 in the Senior 10k race and 15 in the Junior 5k race. With a total of 300 finishers.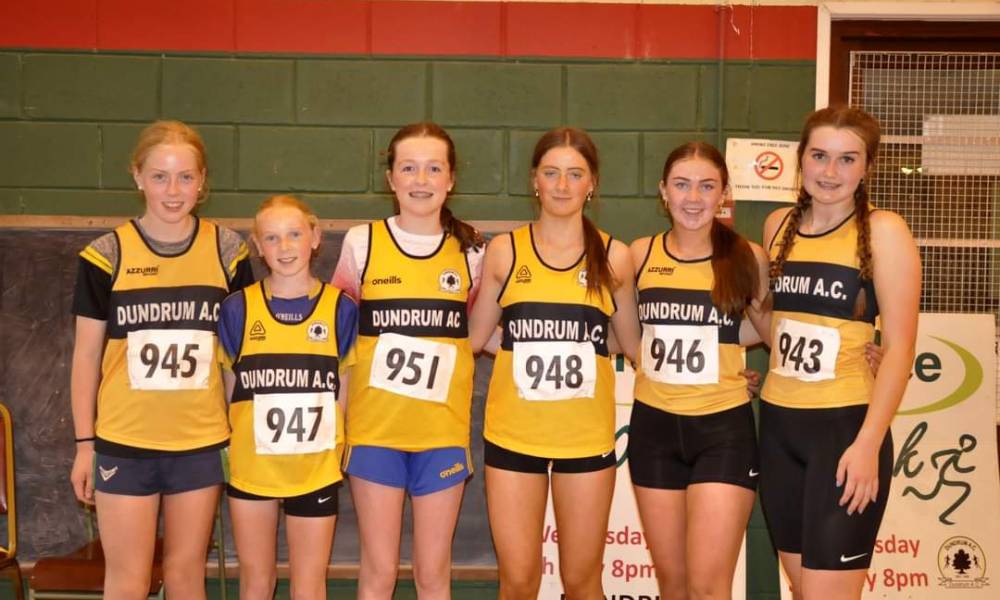 Dundrum AC's junior girls who ran in the Junior 5k race that was incorporated into the Coillte 10k.[/caption] We had a huge array of clubs represented with 41 in total and that doesn't include the huge array of runners from areas far and wide who weren't members of clubs.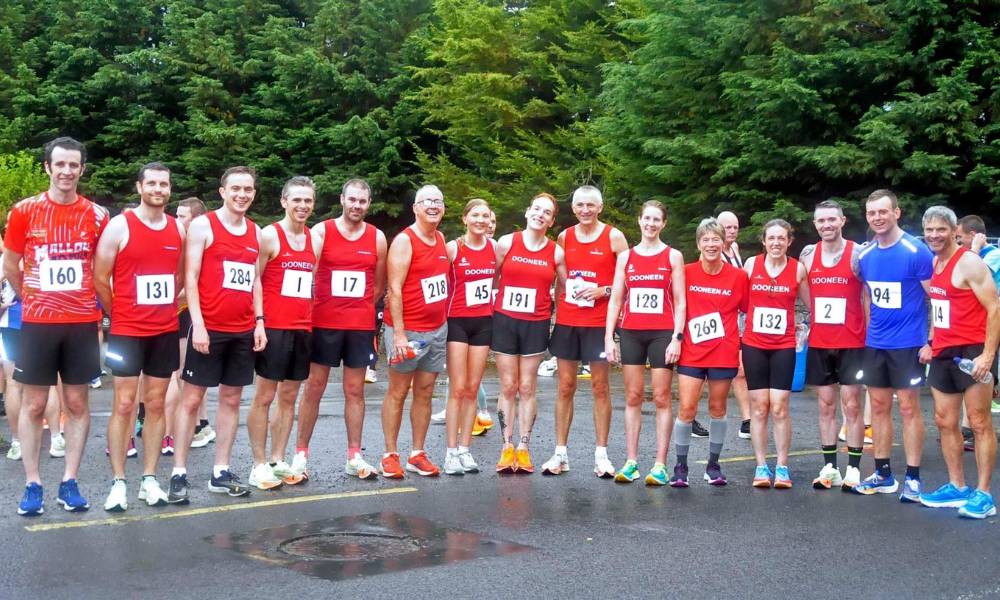 Mallow AC members who competed in the Coillte 10k in Dundrum.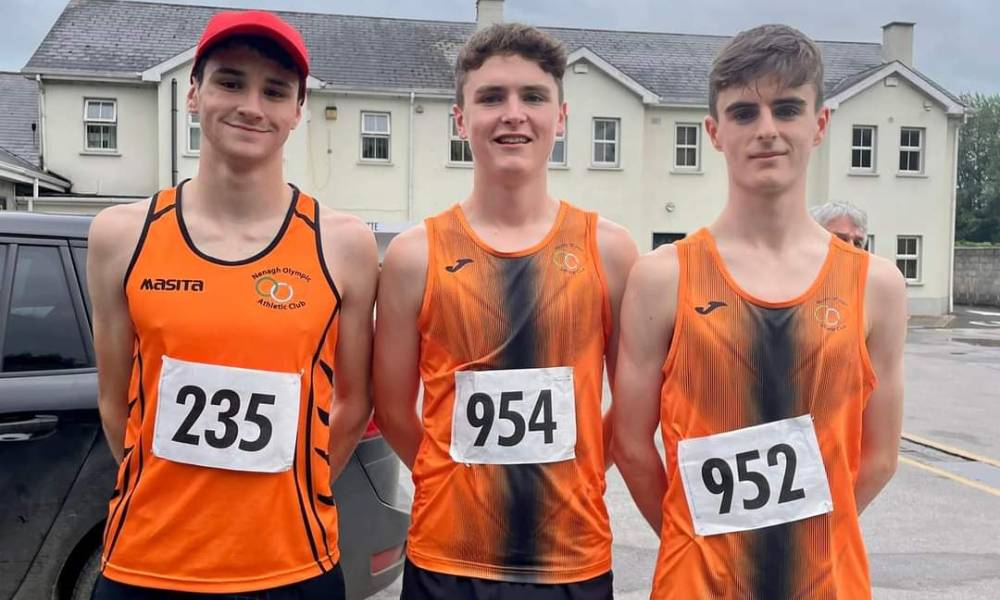 Nenagh Olympic AC who competed in the Coillte 10k and Junior 5k in Dundrum.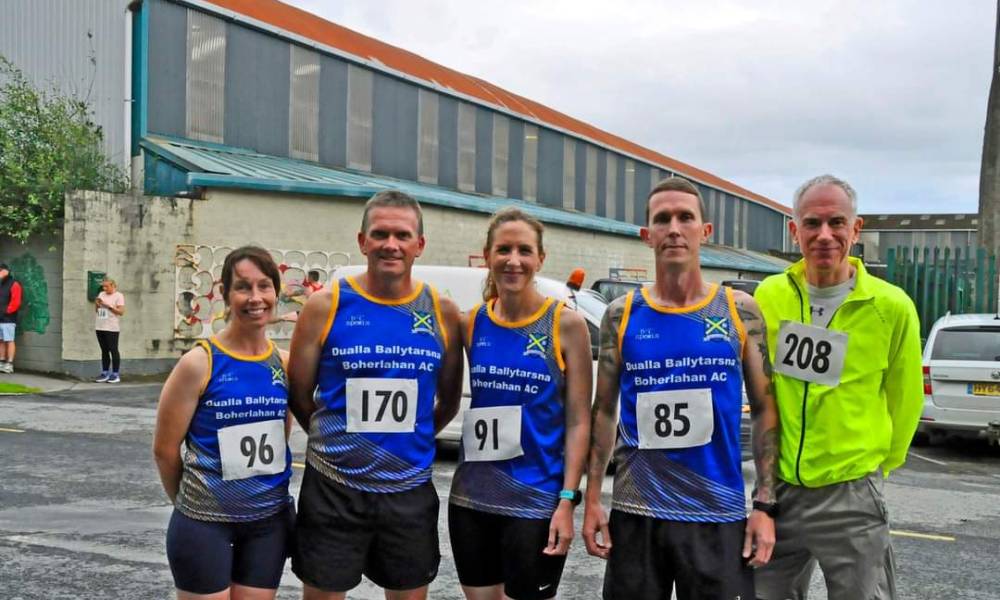 DBB AC members who competed in their neighbouring club Dundrum AC's Coillte 10k in Dundrum.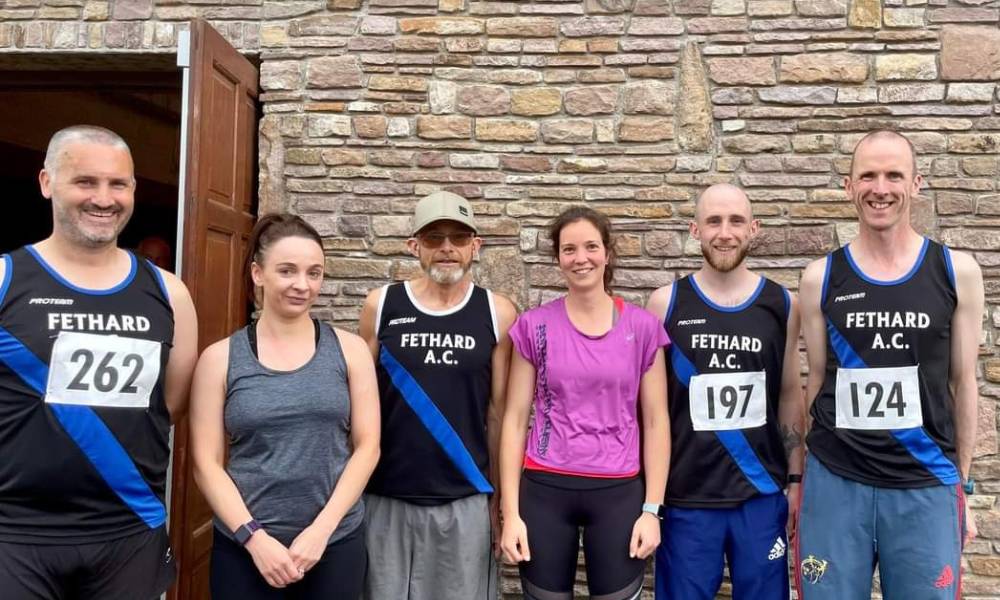 Fethard AC members who competed in the Coillte 10k in Dundrum.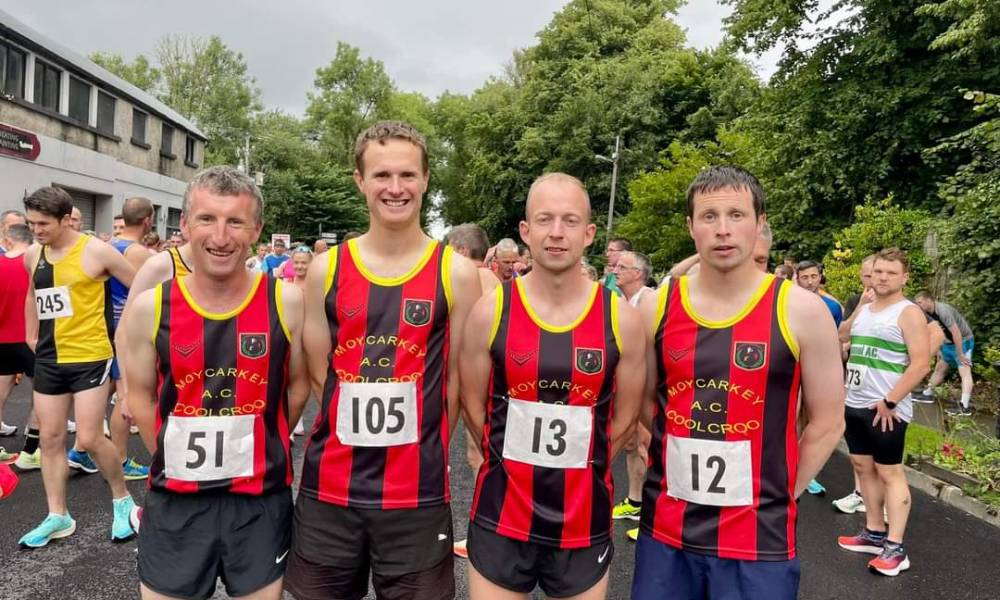 Moycarkey Coolcroo AC members who competed in the Coillte 10k in Dundrum. 
The clubs that ran in the race were Dundrum AC,  Dunboyne AC, Donore Harriers AC, Bilboa AC, Moycarkey Coolcroo AC, Leevale AC, Ennis Track AC, Eagle AC, Nenagh Olympic AC, Borrisokane AC, West Limerick AC, St Abbans AC, Dooneen AC, Portlaoise AC, Fethard AC, Tullamore Harriers, Limerick AC, Kilkenny City Harriers, Thurles Crokes AC, An Bru AC, West Waterford AC, An Riocht AC, St Nicholas AC, Moyne AC, Clonmel AC, Tulla AC, Templemore AC, Derg AC, Kilmurray/Ibrick/NClare AC, Mallow AC, Beara AC, Togher AC, Birr AC, St Catherine's AC, Rathfarnham AC, Mooreabbey Milers AC, DBB AC, Waterford AC, Galtee Runners AC, Ballyskenach AC and Midleton AC.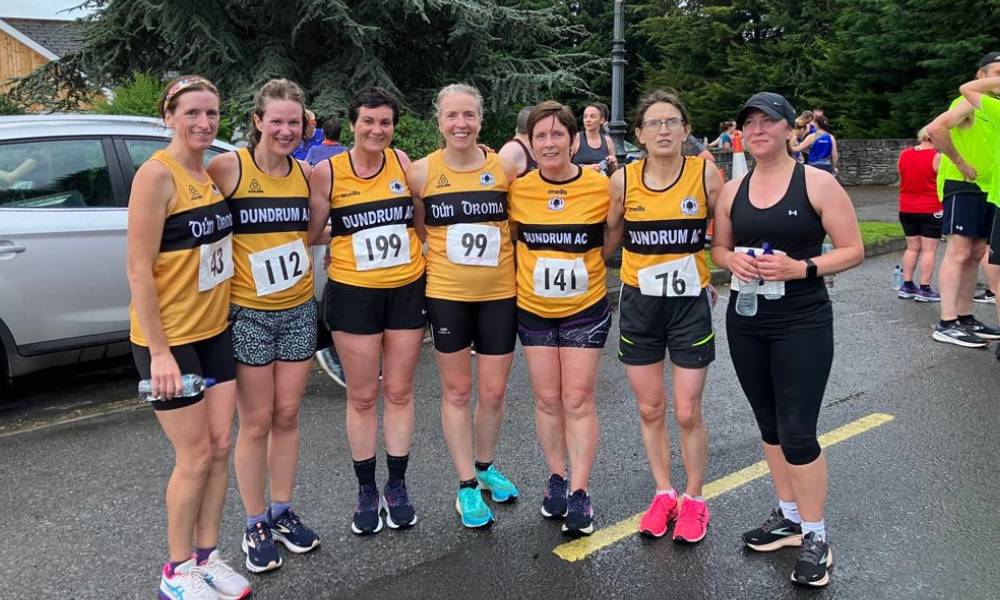 Dundrum AC's women who ran in their Coillte 10k in Dundrum.
Fantastic to see so many singlets with the different club colours from so many counties. The club would like to thank the following: for the use of facilities Dundrum Community Hall, O'Dwyer Steel, Kickhams GAA and Quirke's Garage.
Sponsors Butler's Centra, Heffernan's Shop and our main sponsor Coillte represented by PJ Trait on the night.
With the helping of the event Civil Defence, SOLAS, Tipp CoCo, David Fryday, John Kenrick, Premier Timing Systems.
Refreshments;  Bridget Kennedy, Tom and Mary MacDonald, and all club members who made sandwiches and or sweet treats. Entries on the night by John Kennedy and our club members. And to all the stewards who kept the runners safe and assisted with parking.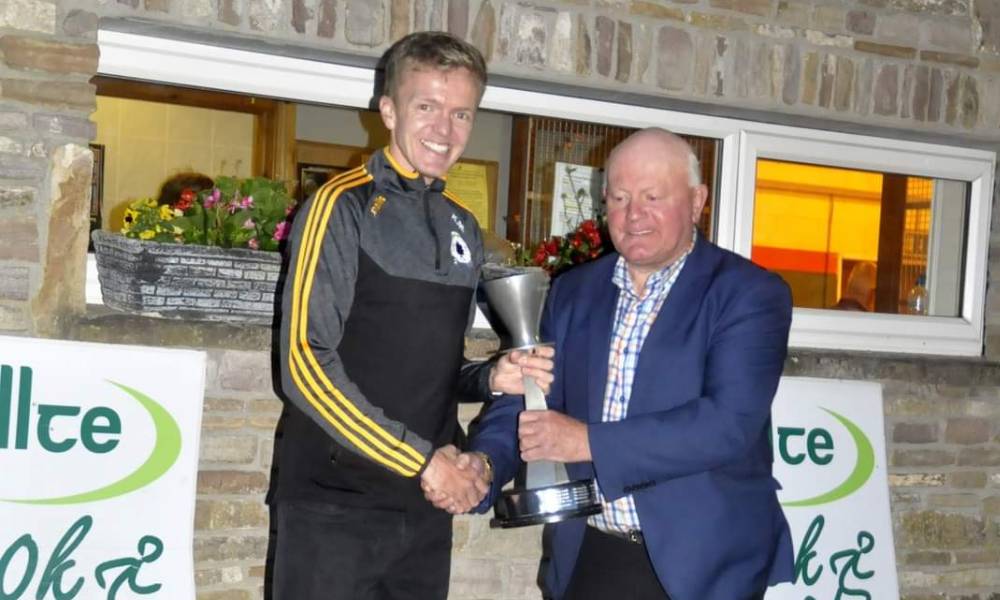 Dundrum AC's Kevin Moore who won the Coillte 10k on home turf in Dundrum in a spectacular finish.
The following are our own club members results from the race.  In the Junior 5k race we had 6 junior girls run. First home for the club was 6th Ruby Maher 22:05 and was 1st Junior Girl. Next was 9th Millie Kelly 23:12 and was 2nd Junior Girl, 10th Emma Kingston 24:50, 11th Belle Kelly 24:57, 12th Kate Dooley 24:57 and 13th Niamh Buckley 25:24. In the 10k Senior race we had 25 Senior athletes run. First home in a spectacular win was Kevin Moore 31:28, who held off second place by 3 seconds to win on home turf. Next we had 15th Eamonn Morrissey 33:58, 22nd Barry Hartnett 34:29, 43rd Tom O'Connell 36:39, 56th Gerry O'Neill 37:47, 61st Darren Allison 38:07, 63rd Michael Ryan 38:11, 94th Linda Grogan 40:12, 105th Michael Moore 40:48, 119th Jim Halley 41:57, 120th William Keane in a PB of 41:59, 122nd Catherine Fogarty in a PB of 41:59 and was 2nd O45, 128th Tony Delaney 42:14, 140th John Barry 43:17, 141st Karen Coughlan 43:19, 152nd Mairead Julian 43:58, 163rd Shane White 44:53, 166th Emily Leahy 45:20, 172nd John O'Brien 45:52, 202nd Claire Moore 50:07, 226th PJ Collins 52:54, 243rd Claire Ryan 55:12, 246th Pat Hayes 55:39, 249th Brigid Browne 56:15 and 260th Patricia Moloney 58:23.
MOOREABBEY MILERS 10 MILE
The Mooreabbey Milers 10 Miler was held on Sunday, July 9 in Galbally. We had 5 athletes compete and all 5 had ran the Coillte 10k 4 days previous so huge well done on doing two long races close to each other. First home for the club was 5th Barry Hartnett 57:46. Next, we had 29th Tony Delaney 1:13:22, 50th Emily Leahy 1:21:44, 66th PJ Collins 1:33:17 and 72nd Pat Hayes 1:34:47.
CLONTARF HALF MARATHON 
The Clontarf Half Marathon was held on Saturday, July 8. Louise Moore ran the long-distance race of 21km in 2:09:31.
ALL IRELAND JUVENILE B TRACK AND FIELD CHAMPIONSHIPS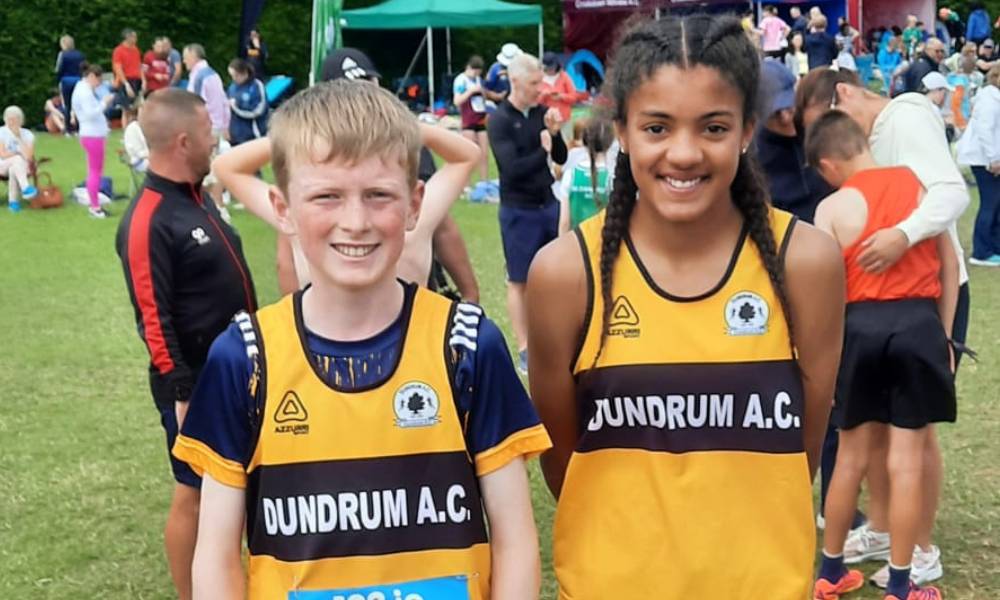 Dundrum AC's Albert Maher (Silver 600m) and Taylor O'Toole (12th 600m) who competed in the All Ireland Juvenile B Tack and Field Championships in Tullamore, Co Offaly.
The All Ireland Juvenile B Track and Field Championships were held on Sunday, July 9 in Tullamore, Co Offaly. We had 2 juveniles compete in the U13 category. Taylor O'Toole was 4th in her Girls 80m heat in 12.14. She also competed in the Girls 600m and was 12th in 1:53.68.  Albert Maher also competed in the Boys 600m and won Silver in 1:44.67. Huge well done to our excellent juvenile athletes representing the club at national level.

We'd like to extend a big thank you to Laura Armstrong for contributing these materials!