COUNTY JUVENILE B CROSS COUNTRY CHAMPIONSHIPS 
The County Juvenile B Cross Country Championships were held in Turnpike, Two Mile Borris on Sunday, November 5. It was in surprisingly good condition considering the weather we have had lately. We had 45 juveniles in action. In the Girls U9 we had Emma Kelly and Carmel McHugh and both performed well. In the Boys U9 we had Sean Fitzgerald winning Silver, Odhran McLoughlin winning Bronze, 4tg Harry Creedon, 6th Robbie O'Neill, 7th Adam Breen, 8th Mikey Burke, 9th Karl McGlinchey, 15th James Denny, 17th Jack Butler and 18th Sennan O'Sullivan. With three to score on a team we did the clean sweep taking Gold, Silver and Bronze team medals.
In the Girls U11 we had another big group and our first winner of the day in Farran Ryan, Julie Morrissey was just behind winning silver and 5th Bella Curling. The three girls won the team gold. We also had 6th Ella Gayson, 26th Poppy Flavin, 29th Leah Shanahan, 30th Aisling Kinane, 32nd Isla McHugh, 33rd Ciara Hayes, 35th Kayla Ryan, 41st Claire Morrissey, 44th Mary Kate English and 45th Aoife Ryan. In the Boys U11 we had 8th Philip Croke, 24th Billy Guilfoyle, 30th Cian Hayes, 32nd Eoghan O'Neill, 33rd Conor Tierney and 35th Jack McGrath. Our Girls U13 of 7th Molly Butler, 12th Emma Morrissey and 13th Sarah Guilfoyle won the bronze team medals.
In the Boys U13 Rocco Julian was our second winner taking the gold with some style. Next, we had 4th Micheal Farrell and 10th Sean O'Neill. These 3 three won the team gold. Our second team of 12th Darragh Kelly, 13th Micheal Ryan and 17th Thomas Tierney won the bronze medals. Seamus English was 18th. Our Girls U15 also won the Gold medals with Clodagh Kilmartin leading them home and winning individual silver, 4th Anna Butler and 7th Nollaig Kilmartin. Jack English was 6th in the Boys U15. Well done to all. We go back to the Turnpike again next week for the Munster Uneven Age Juvenile Cross Country Championships and we will have another big entry for that.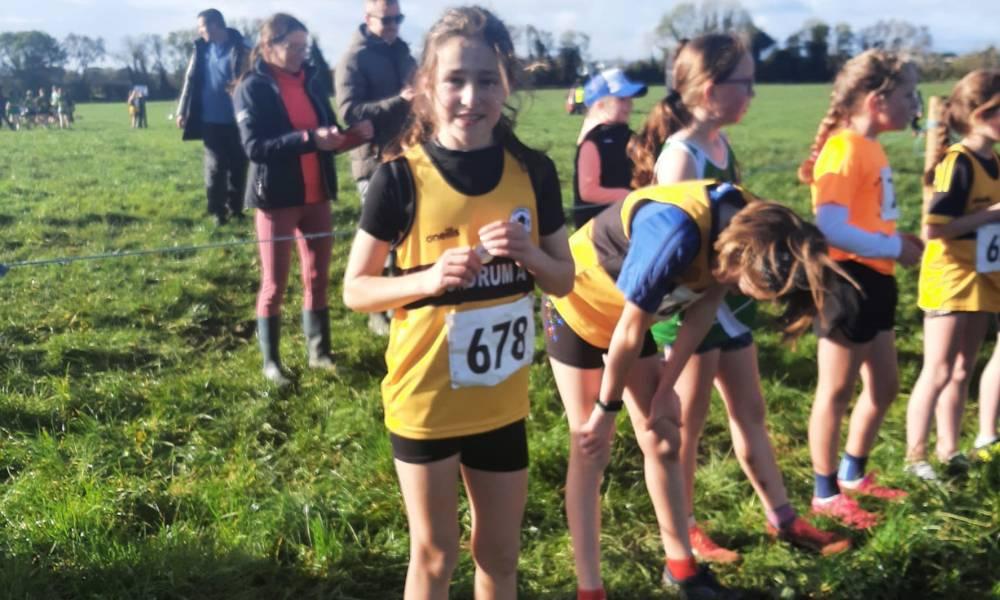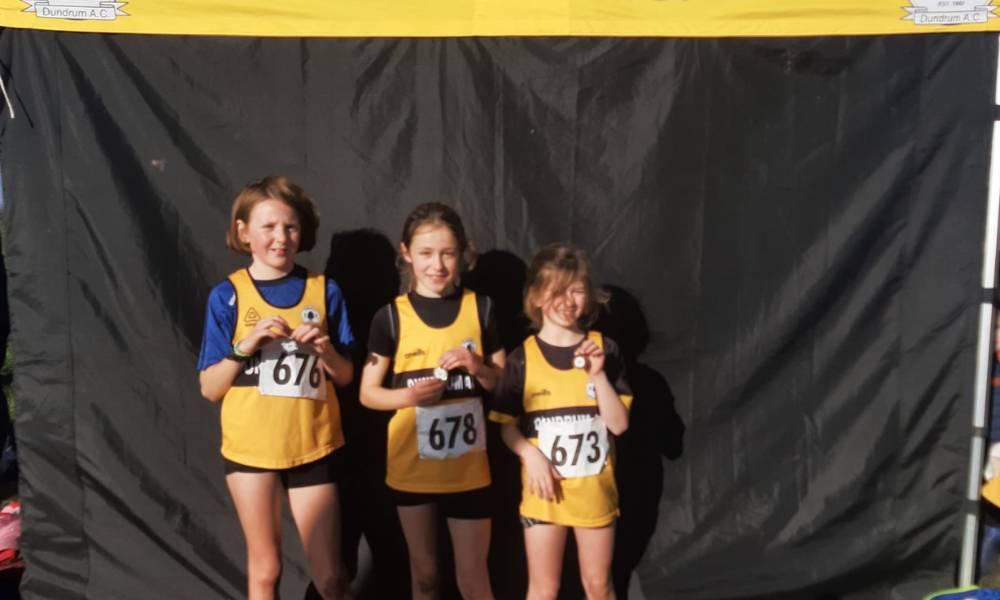 COUNTY NOVICE B CROSS COUNTRY CHAMPIONSHIPS - O'DWYER WINS GOLD
The County Novice B Cross Country Championships was held in Turnpike, Two Mile Borris on Sunday, November 5. We had 6 athletes compete. The womens race was over 3km and we one athlete compete Mairead Julian was 5th in 14:54. The mens race was over 6km and we had 5 compete. Philip O'Dwyer dominated the race to win the race comfortably in 23:32, 19 seconds ahead of second place. Philip only started racing this year and this was his debut in this championship. Great performance. Next we had 11th Gerry O'Neill 25:13 and 12th Darren Gayson 25:16. These 3 placed 4th in the team just 2 points short of Bronze. Next, we had 17th Jim Halley 26:07 and 23rd Shane White 28:01. A special mention to Mairead and Gerry who ran on tired legs after running the Dublin City Marathon the previous Sunday.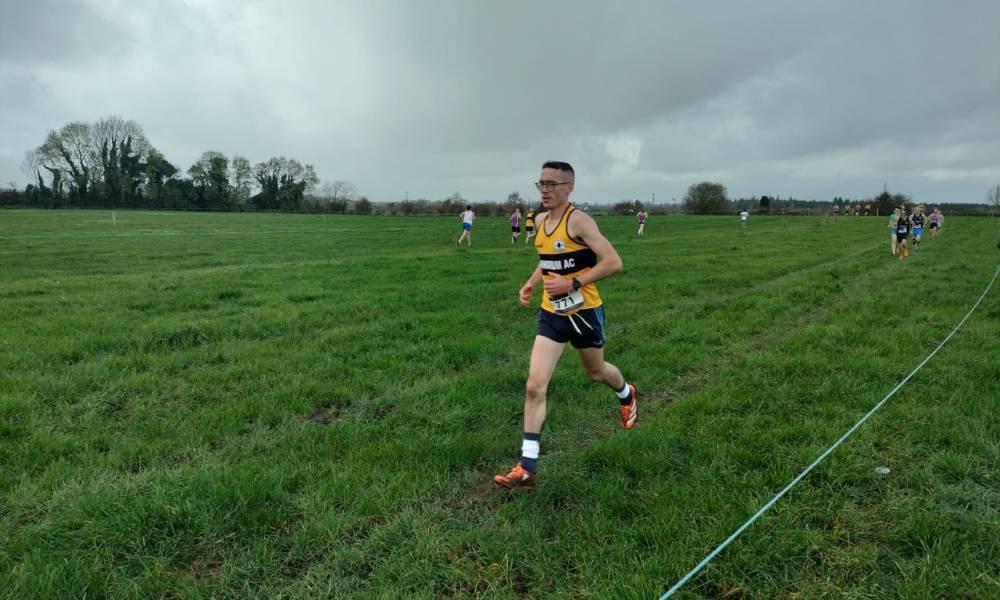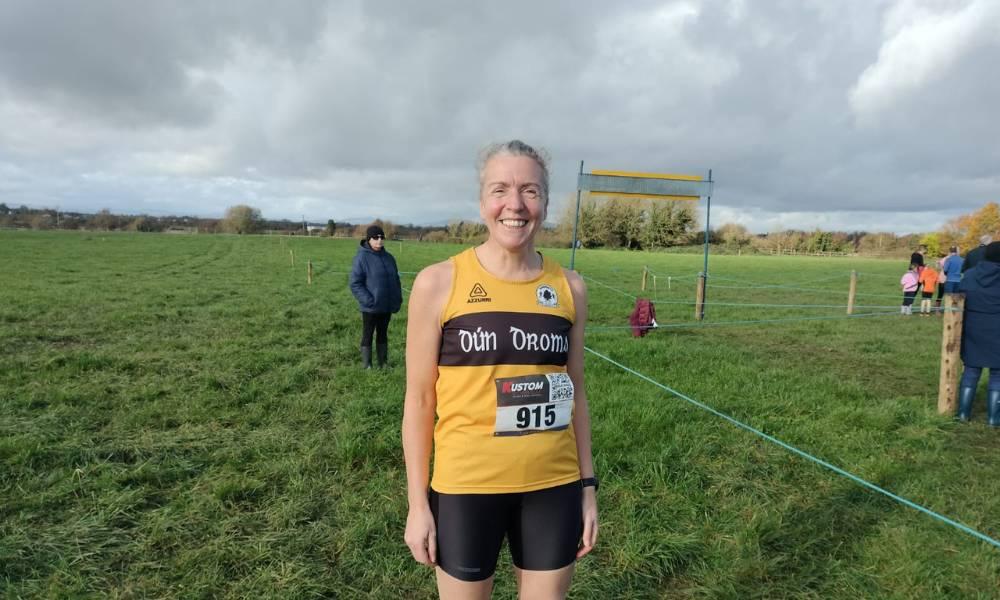 Featured Image: Dundrum AC's men at the County Novice B Cross Country Championships in Turnpike. L-R: Jim Halley, Shane White, Gerry O'Neill, Darren Gayson and Philip O'Dwyer (Individual Gold).