In his debut run over the distance, Efrem Gidey of Clonliffe Harriers finished fifth in the Great North Run on Sunday with a time of 64 mins 3 secs for the point-to-point course from Newcastle to South Shields on Tyneside, England.
Despite the sweltering conditions, the opening miles were fast with a lead group, including Gidey going through five miles in 23 mins 11 secs and 10km in 28:55. Soon after that, the 2022 world marathon champion Tamirat Tola of Ethiopia upped the pace, going on to win in 59 mins 55 secs. Six times winner Mo Farah, running his final race before retirement, was now fourth and until the final two miles, Gidey managed to stick with him and although Farah pulled away and finished y in 63:28 Gidey still finished a solid fifth with almost half a minute to spare over British athlete Andy Bouchard.
Stephen Scullion, also Clonliffe Harriers, finished 32nd in 70:19.
Some of the country's top master athletes turned out for the Charleville International Half Marathon in Co Cork on Sunday (September 10), where Michael Harty of East Cork AC and Barbara Cleary of Donore Harriers were the winners.
Harty an M40, was the race winner in 67 mins 3 secs, seeing off the challenge of William Maunsell from Clonmel AC who finished a close second in 67:13. Third in 69:00 was Sean Doyle of Cork City AC. Jake O'Regan of St John's AC was fourth in 69:31.
Cleary finished in 79:20, which beats her own W50 record set a few weeks ago. Isabel Oakes of Sligo AC was second in 79:53 and Sinead Lynch, of no fixed club, third and first W45 in 82:43. First W55 was Tracey Guilfoyle of Kilnaboy AC in 96:51, with Mary Sweeney of St Finbarr's AC first W60 in 1:41.13 and Anne Mangan of Star of the Laune AC in Kerry first W65 in 1:43.45. Of the men, Myles Gibbons of Sliabh Bhuide Rovers A.C. was first M45 in 74:10. Third M70 and first wheelchair was Jerry Forde. All these athletes have considerable careers as senior athletes behind them - and are clearly still producing the goods.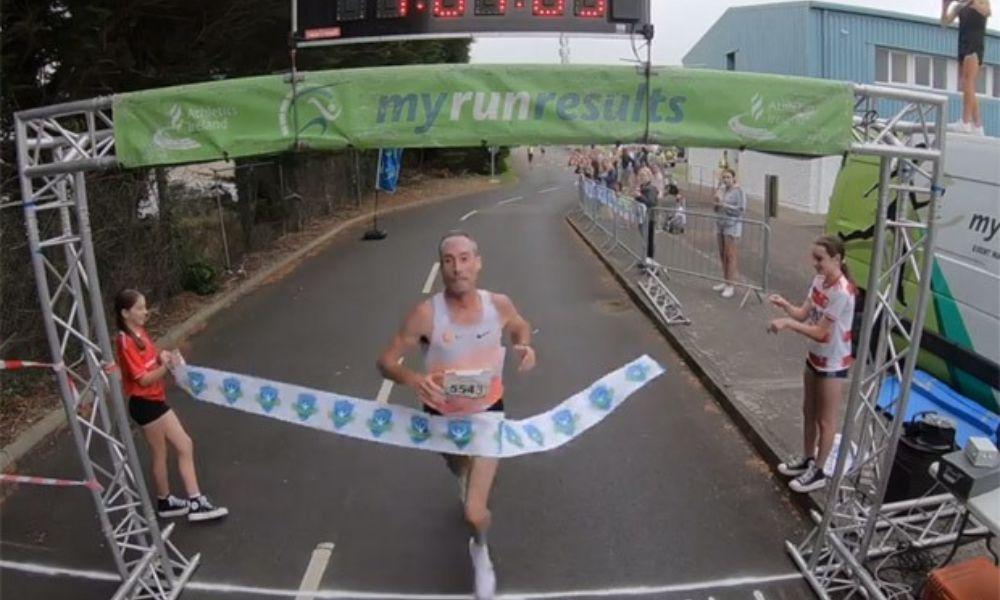 In other Sunday races, Gerry Forde of Kilkenny City Harriers was the runaway winner of the Toddy Moore Memorial 90th Anniversary 10-Mile in Kilmore, Co Wexford with a time of 54 mins 25 secs. That put him eight minutes clear of the chasers led by SBR AC's Paul Gibbons who was second in 62 mins 46 secs. First woman in 75:44 was Sandra Young of United Striders. A clear winner of the five-mile was David Mahon in 25:48. First woman was Elaine Cardiff of host club Kilmore AC in 35:17.
Winner of the Medic Half Marathon in Monasterevin, Co Kildare, was Aindriu O'Comhraidhe in 77 min 27 secs. First woman in 93:53 was American visitor Erin Rock. In the 3/4 Marathon, Tommy Kelly of Newbridge AC was first home in 2 hrs 3 mins 10 secs, with Karina Cash, also Newbridge AC first woman in 2:35.41
Andrew Lennon of Athlone IT AC and Theresa Hughes of Athlone RC were the winners at the Glasson Tubberclare Lucy Fallon Moran Memorial 5km, in Co Westmeath. Their times were 18:04 and 19:11 respectively.
Peter Somba of Dunboyne AC was the winner of the Ratoath Half Marathon at Fairyhouse Racecourse, Co Meath on Saturday (September 9) in a time of 70 mins 15 secs. Second and first M40 in 70:54 was former Olympic race walker Colin Griffin of Ballinamore AC. Paul Stephenson of Rathfarnham WSAF AC was third in 71:37. First M50 was Stephen Duncan of Omagh Harriers in 75:55. Grace Lynch of Dundrum South Harriers in 79:01 was first women ahead of Rachel Birt of Annalee AC in 82:30 and Niamh Devlin of DSD AC in 84:02.
At the Dromiskin 5km, in Co Louth, Daniel Stone of Raheny Shamrock AC was the winner in 14 mins 38 secs, with Yared Derese of Carrick Aces second in 14:46 and Sean Doran of Clonliffe Harriers third in 15:35. First junior was Lorcan Forde Dunne of Ace AC in 16:30.
Catherine O'Connor of English club Harrow AC was first woman in 16:37. Nichol Sheridan was second in 17:31 and Dearbhla Allen of St Peter's AC third and first junior woman in 18:13.
North East Runners, led by Declan Toal in fourth place, took the men's team prize, with Dunleer AC pipping Drogheda and District for second place. Best of the women's teams was Dunleer with St Peter's AC second and North East Runners third.
Junior athlete Francis Donoghue was the winner of the Ray Flynn Memorial 5km at Calry Community Park in Co Sligo in 16 mins 1 sec. Letterkenny AC veteran Ciaran Doherty was second in 16:13. First woman was Eimear O'Connor of Sligo AC in 18:55.
David Spalding of Ballydrain Harriers won the Ards 5-Mile at Londonderry Park on Friday (September 8) in 25 mins 55 secs. John Craig of Annadale Striders was second and first M40 in
26:00 and Craig McMeechan of North Down AC third in 26:06. First woman in 31:09 was Fiona McQuillan of North Down AC who was also first W40. Linda McDougall was second in 33:02 and Cathy McCourt third and first W50 in 33:01