Last Wednesday evening the 5 th of July the Coillte 10k road race was ran for the 38th consecutive year. A field of over 300 athletes went to the start line which included 15 under 20 years of age juniors running 5k one lap as part of the two lap 10k race. 
On a good evening for racing despite the mid-race shower the athletes got off to a dry warmup and start. Club President and one of the founder members of the club back in 1960 John Kelly blew the whistle to set them on their way.
On the first lap, a breakaway group of six athletes soon emerged made up of Kenyan native Peter Brandon Somba and running for County Meath club Dunboyne. Peter was joined by Kane Collins from Dublin club Donore Harriers. Previous winners of the race Declan Moore Bilboa and local man Kevin Moore Dundrum were also in the group along with Mossy Bracken Moycarkey Coolcroo and Tom McKenzie Leevale. Out on the second lap the pace was hotting up with Mossy and Tom just dropping off the group. Then as they came inside the last kilometre the other four were still in contention for victory. Kevin then went for broke as they came onto the Cashel Road with Peter in pursuit roared on by the hometown crowd Kevin held off Peter by 3 seconds for a great victory in a time of 31:28.
In doing so he was winning the race for the second time. His last victory been in 2014 plus of course his Virtual win in 2020 a nice hat trick. Kevin also won the Tim Crowe Memorial Trophy for the first Tipperary athlete to cross the finish line for the fourth time. The trophy presented to him by its instigator Dominic Moore in memory of a great Tipperary athlete in the early nineteenth century. Peter had a great race for 2 nd in 31:31. Kane made his long trip to Tipp worthwhile with a super 3 rd place in 31:36.Declan took fourth in another great time of 31:37 and Mossy battled all the way to the line for a super 5 th in 31:53.Kane,Declan and Mossy all recording personal best times on the evening a testament to the speed of the course. The first 12 athletes across the line all came from different clubs indicating the continuing support running clubs have for the race over the years.
[caption id="attachment_20313" align="alignnone" width="1000"]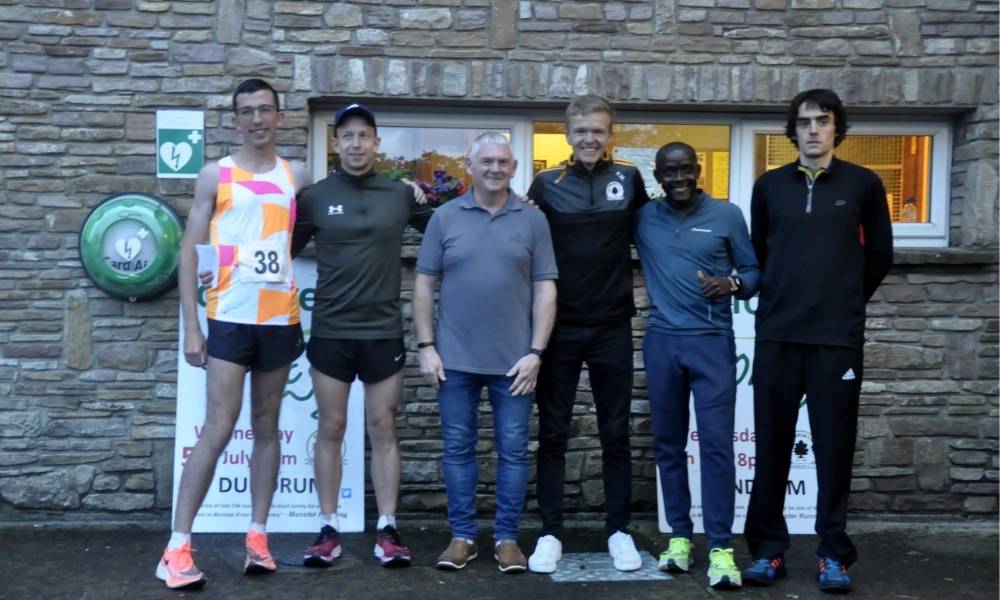 First 5 Men Coillte 10k Road Race Dundrum Left to Right: 3rd Kane Collins (Donore Harriers), 5th Mossy Bracken (Moycarkey Coolcroo), Pj Trait Coillte, 1st Kevin Moore (Dundrum), 2nd Peter Brandon Somba (Dunboyne), 4th Declan Moore (Bilboa).[/caption]
The Master men categories were also fiercely contested in the Over/40 section Aogan MacDomhnaill West Limerick and Stephen Hunter St Abban's had a great battle all the way to the line both finishing on the same time 33:26 with Aogan getting the nod. The Over/45 had Gary Egan An Bru first in 35:13 from Coillte the sponsors of the race employee Stephen Moore An Riocht in 35:34.The Over /50 had a super run by Vivian Foley Eagle in breaking the course record by 74 seconds in a great time of32:58 from Peter Madden Templemore in 36:23.Fintan Rice Fethard won first in the O/55 in 38:15.Two Clonmel athletes Anthony Power and Ned O'Brien were first O/60 and O/65 in 39:45 and 50:52 respectively. The ageless Joe Gough West Waterford smashed the O/70 record by nearly 3 minutes in a fantastic time of 41:10 and he also holds the O/65 record of 39:12 which he set last year. Wheelchair racer Cillian Dunne Borrisokane made his second trip to Dundrum and despite the wet road conditions he wheeled himself around in 32:27 a super effort.
[caption id="attachment_20314" align="alignnone" width="1000"]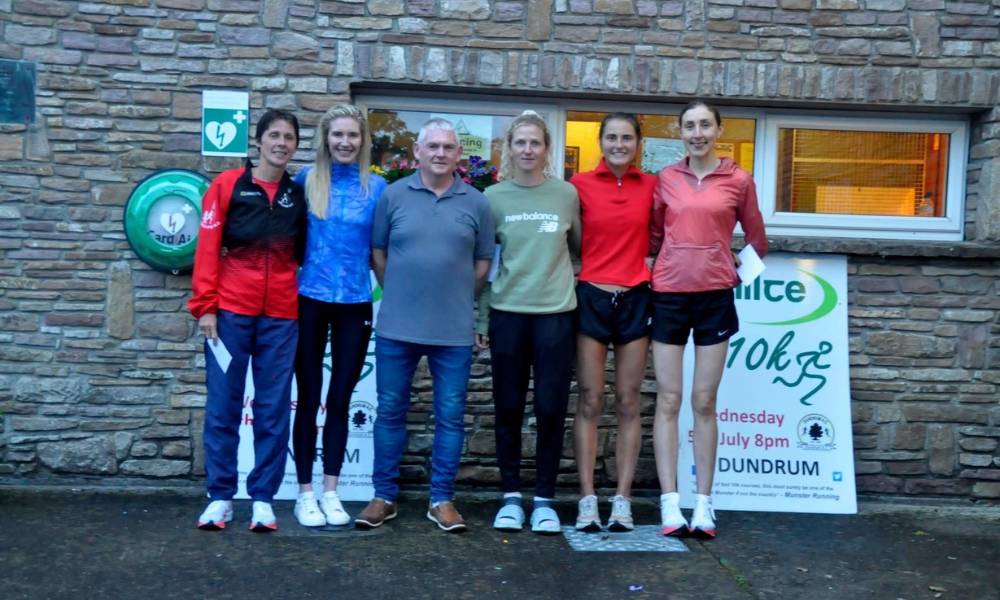 First 5 Women Coillte 10K Road Race Dundrum Left to Right: 5th Breda Gaffney (Mallow), 3rd Sharon Rynne (Kilmurray Ibrickane/North Clare), Pj Trait Coillte, 1ST Mary Mulhare (Portlaoise), 2nd Laura Mooney (Tullamore Harriers), 4th Dee Grady Ennis (Track).[/caption]
The women's race was also of a very high standard with Irish Internationals Mary Mulhare Portlaoise and Laura Mooney Tullamore Harriers setting a red-hot pace at the front of the field. Both girls were relentless with their running out on the second lap with Mary coming home a convincing winner in a great time of 34:05 only 20 seconds outside the course record. Laura also had a super run for second place in also a great time of 34:45. The battle for the next three prizes was a tighter affair involving Sharon Rynne Kilmurray Ibrickane North Claire, Dee Grady Ennis Track and Breda Gaffney Mallow. Sharon took 3 rd place in 36:43, Dee 4 th in 36:55 and Breda 5 th in 37:29 super running by all the girls. Special mention here for Breda as she is a O/50 athlete and was only 8 seconds outside the National Record set on this course by Angles McCann in 2021.
[caption id="attachment_20322" align="alignnone" width="1000"]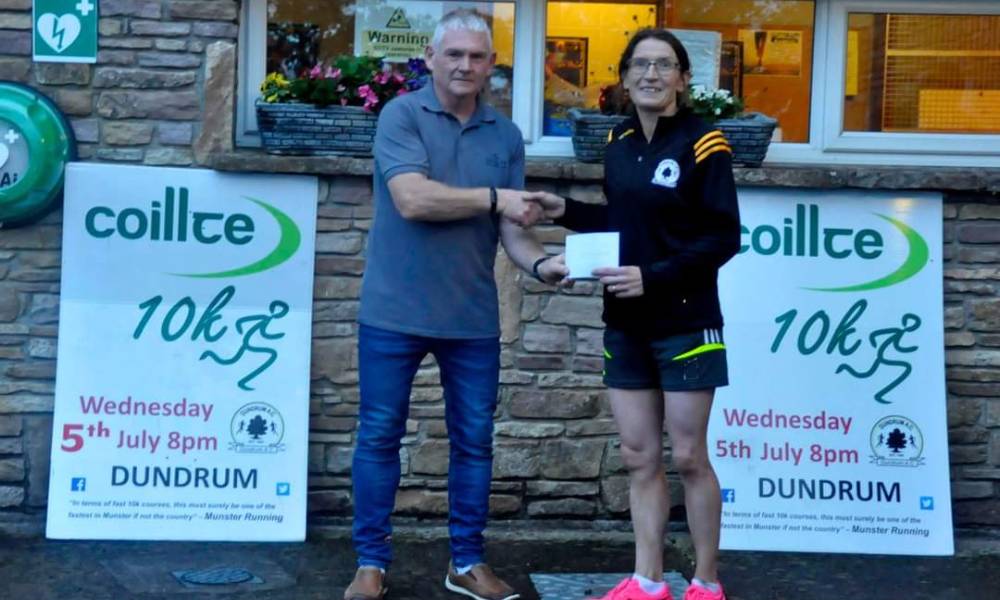 Dundrum AC's Catherine Fogarty who won 2nd O45 in a new PB at the Coillte 10k in Dundrum.[/caption]
The Master women categories as in the men were keenly contested. In the O/40 category Grace Reilly Portlaoise held off Caroline Hassett Templemore with times of 37:46 and 38:36 respectively. In the O/45 it was an all-Tipperary affair with Anne Marie Halpin Clonmel getting the better of local lady Catherine Fogarty Dundrum in times of 40:58 and 41:59 respectively. In the O/50 category Diane Behan Waterford was a clear winner from Tipperary Towns Denise Compton in times of 42:09 and 46:43 respectively. Dooneen Athletic Club in County Limerick who came in huge numbers to the race and duly provided the winners of the O/55 and O/60 categories in Eileen Reeves 53:04 and Claire Knight 48:30 respectively.
The Junior 5k race as is the trend with our teenagers had a small entry but this was made up for in quality especially in the men race. Here Luke Purcell Nenagh Olympic ran a blinder to hold off all the field 5k and 10k for one lap to smash the course record by 19 seconds coming home in a great time of 14:53. His clubmate Jamie Moloney also ran a great race for second in 16:24. The women's race which had mostly young teenage girls had a clear win for Dundrum's Ruby Maher in 22:05 from her clubmate Millie Kelly in 23:12.
All prizes were presented after the race by Coillte Region Manager Pj Trait who himself ran the race and whose company Coillte are the main sponsors of the race and have been involved with the event since the first race in 1986.
We'd like to extend a big thank you to Laura Armstrong for contributing these materials!