With just a few days to go until the Dublin Marathon, we have been talking to some runners about why they are running the Dublin Marathon, as well as some questions about their running journey. 
Next up is Rob Stephen of Sanctuary Runners in Co. Clare.
—
Hi Rob, tell us a little bit about yourself?
I spent some time living and working in Africa, Kenya - where I was born - and Zambia - where I worked in development for few years, but in Ireland 30 yrs now. I work in IT in Shannon in the aircraft leasing sector.
Have my daughter, her partner and their 2 girls (5 yrs, 6 mths) living with me so quite a lively and interesting house, especially during COVID lockdowns and when working from home. I am involved locally with Clare Community Games where I look after website and medals and as well as helping out with mental health charity "Grow Mental Health" (was formerly national chairperson 2016-2019 - they celebrated 50 years in 2019 - and I ran my first 5 marathons during that period).
A group of us in Shannon were about to kick of the Illaunmanagh parkrun in March 2020 but that didn't happen due to COVID but we got it up and running in March this year and we now have about 50 weekly parkrunners, about 1/3 of whom walk. Being involved in getting parkrun going in Shannon is probably one of the things I am most proud of.
Why are you running the Dublin marathon?
This will be my 5th Dublin Marathon and 10th overall. My first marathon was Dublin 2017. The weather was fantastic and the crowds were awesome. The humour, the funny signs, the snacks en-route and all the high-fives make it a wonderful event. Top marks to the Dublin supporters. Lived in Dublin for a few years as a student and it's great to run around the place - especially through Phoenix Park.
Can you remember the moment when you decided to run your first marathon?
Not really. I started out running 10ks and then just progressed to half marathons and eventually just thought that it would be great to get a marathon under my belt and once I did Dublin once I was hooked. I did a couple of marathon relays in the Great Limerick Run in 2014 & 2015 - each runner does about 10-11 kms - but you are running alongside marathon runners. That gave me a taste for what it was like - as I did the first leg one year and the last leg the next year.
I have always enjoyed watching the longer races at athletics events and Olympics and having been born in Kenya I have great admiration for the Kenyan runners, especially Eliud Kipchoge. I remember being glued to the TV when he did the Ineos 1:59 challenge 3 years ago.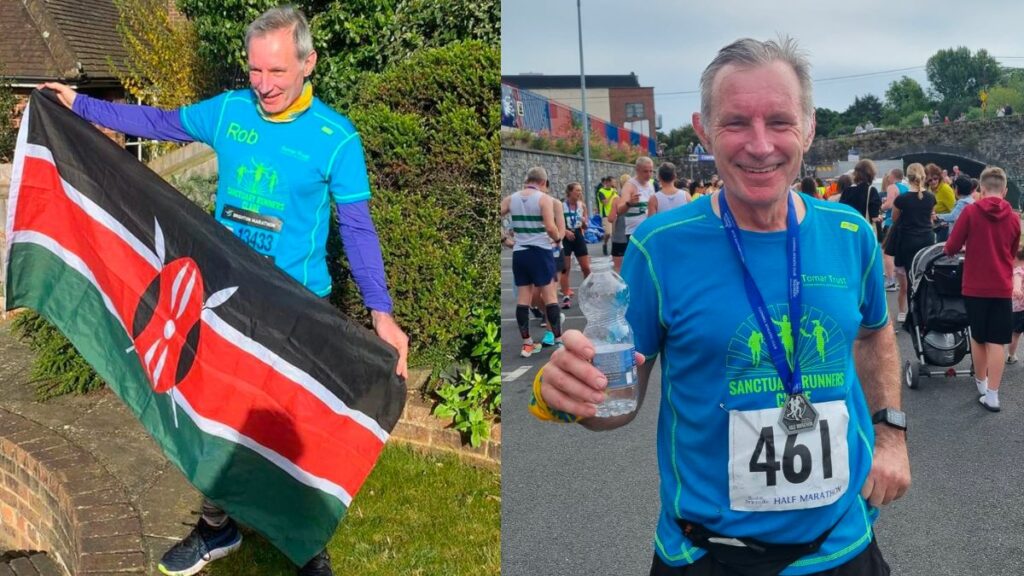 Have you run many marathons before? Have you any run this year, or planned for next year?
This will be my 10th marathon since Oct 2017 and 5th Dublin Marathon - that's counting the virtual #RunYourTown Dublin Marathon in Oct 2020. For that I ran 107 loops around Shannon Town Park with a fellow runner, Ger Slater. That was also a fundraiser for Grow Mental Health - entitled #ABridgeTooFar - there's a wooden bridge in Shannon Town Park so I had a raffle in work for people to guess how many times I would cross that bridge doing the marathon - that raised about €800. I did another fundraiser running around bins in my backyard during lockdown in May 2020 entitled #WhereYouBinMan - same idea - those 337 loops raised about €3,000.
Earlier this year I did the Brighton and Limerick marathons within 1 month of each other. As a prize I secured a night for 2 in the Cashel Palace Hotel and work colleagues submitted guesses for my overall time for the 2 - that raised about €2,000, including a donation of €500 from my employer. Next year I plan to do Limerick again (as it is close) and Dublin (if possible). Like many, I have put my name in for London but doubt that will ever materialise. Brighton was a fantastic event and I have an aunt who lives there - might try and do that again in 2023 but it fills up fast.
How did you get into running?
I think around Christmas 2012 (aged around 45 yrs), I had recently given up cigarettes (though I only smoke about 5 a day) and I found I was eating biscuits and bars with my tea/coffee instead. Plus I have a very sedentary job. Then I saw an ad for the Great Limerick Run on my social media fee and thought that would be interesting, so I just started going out running, and bit by bit built up to 10k (or 6 miles as they have in Great Limerick Run). So GLR 2013 was my first actual event and I just loved the buzz.
After that I did the Run Clare Series for a few years (5k, 5m, 10k 10m) and slowly built up to half marathons. Did my first half in 2016, so by 2017 was ready for a full. I have done some wonderful half marathons over the years, with Dingle, Kilkee, Inch and a hilly one in Fanore being my favourites. Recently did the Boston Scientific one in Clonmel and that has a lovely route now with half on the Blue Way. So venturing into running has presented me with many opportunities to travel within Ireland to various places. Now when I go on holiday I like to find an event (e.g. Brighton or in 2021 I did a half in Bath - the 2 Tunnel half marathon which was also really nice - included 1km through a tunnel). Getting involved with Sanctuary Runners in 2019 has also inspired me along and made it less of a solitary activity.
How do you find the time to train? And how do you cope with missed sessions?
I am fortunate as I live and work in Shannon, so only a few minutes commute. So I normally run straight after work. We also get fed at work so in the evenings I just have a light snack and only need to cook at weekends. Occasionally, and at weekends, I get out early in the morning. Though with Illaunmanagh parkrun up and running, I am normally volunteering there most Saturdays which just leaves Sunday for training. I don't follow any particular training plan. During the week I'd mostly do about 3 x 10k runs, one of which is up and down Tullyglass Hill in Shannon a few times, then at the weekend I would do longer, 15-20k reaching up to 30k at least once in the run up to a marathon.
How has your preparation been for the marathon? Have you run other races, or shorter races? Have you had injuries?
As above, I've run quite a few 10m & half marathons in recent months (Cork half and John Buckley 10m, Ennis half, Clonmel half, Charleville half). I have mainly escaped injuries and had nothing serious since starting. Only gripe is a sore shoulder which I think was originally caused during COVID when I sidestepped someone too quickly on the footpath and shouldered a steel lamppost. Living nearby Shannon Leisure Centre was a great help there as they have a nice pool with sauna and steam room and swimming helped with that injury.
Everyone has a different method of training. Do you train with a club or on your own? Tell us about your training plan
I train alone for the most part. I try to get out running with the Sanctuary Runners (in Ennis or Limerick) when I can, but those are more social runs than training runs. There are plenty of places to train in Shannon, including a nice path along the estuary (where the Illaunmanagh parkrun also goes). I also run out to the airport and occasionally see something interesting, like the Antonov which was here a few times during lockdown before it was destroyed in Ukraine). For long runs, the old Shannon to Newmarket on Fergus road is great as it has a wide hard shoulder and is very quiet. Unlike many people, I never listen to music or podcasts when running. Sometimes what I do instead, is compose Limericks in my head - they're short and sweet and fit in a tweet - well that's what somebody said. Funnily enough, when we got our Sanctuary Runner tops in Limerick, the supplier mistakenly put "Limericks" on the front.
What is your goal time for the Dublin marathon?
My goal is to be under 4 hours. All my marathons to date have been between 3:38 and 4:01 (last was Galway 2021 where I had not done enough training). I'll probably be sticking with the 3:50 pacer at the back of Wave 2. In 2019 I remember one of the pacers needed a pee and broke off into the woods in Phoenix Park - didn't half the pack start following him. I don't think I will ever break the 3:30 mark as I am getting on a bit.
What would your advice be to runners heading into the marathon?
Before my first marathon, a work colleague who had run Dublin a few years previously said to get my name printed on my shirt. So my few marathon tops (a Grow one and a Sanctuary Runners one) have a big "Rob" front and back. Personally there is nothing that give you a boost more than hearing someone say your name. Also most important, stick to your planned pace - it is all too easy to get too excited and head off at too fast a pace and you will regret that later. Finally, and most importantly, enjoy and savour the experience and the sights, sounds and tastes along the route. It is an unforgettable experience.
Do you have any techniques to motivate yourself when the going gets tough?
See above, trying to compose a new Limerick. Failing that counting my steps up to 100 and then starting over again. Don't think about how far left there is - until you are past the 20 mile mark then you know it's only a mere 10km to the finish.