With just a few days to go until the Dublin Marathon, we have been talking to some runners about why they are running the Dublin Marathon, as well as some questions about their running journey. 
Next up is Max Parry from County Galway.
—
Hi Max, tell us a little bit about yourself?
My name is Max Parry and I am 26 years old. I'm originally from Portumna, Co. Galway but I am now living in Loughrea. I love all things sport, especially soccer - I play soccer for East Galway United, I'm a massive Man Utd fan and I've been running consistently for the past 2 and a half years.
Why are you running the Dublin marathon?
I am quite a competitive person, and while I enjoy running, I wanted to set myself this challenge. I am also trying to raise money for a Lust for Life, a charity that uses content, campaigns and events to facilitate young people to be effective guardians of their own mental wellbeing.
Can you remember the moment when you decided to run your first marathon?
Yes, I had been debating with myself for quite a while on whether to sign up for the marathon or not, so I bit the bullet earlier this year and decided to go for it. While it has been really tough I've learned a lot about myself mentally and physically over the last few months, so I'm delighted I signed up.
Have you run many marathons before? Have you any run this year, or planned for next year?
No, this will be my first marathon. I have no other marathon plans as my focus for now is trying to cross the line in Dublin!
How did you get into running?
I took up running during the first lockdown as there was nothing else to do. I was living in Leixlip Co. Kildare at the time and the village is blessed with running routes through parks and along the canal so it really helped me enjoy my runs. From there, I gradually started to build the distance and pace over time.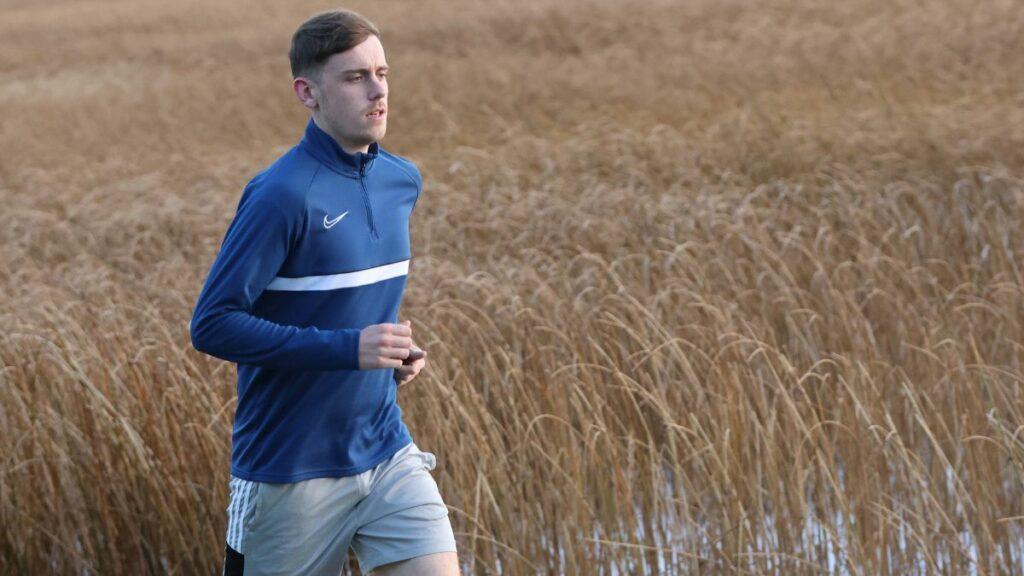 How do you find the time to train? And how do you cope with missed sessions?
I work from home so it is quite easy to head out for a 5/10km at lunchtime two or three times a week. I try to do a long run then on a Saturday morning. If I miss a session, I try not to feel too guilty about it as sometimes life can just get in the way. I try to trust in the training that I have done rather than worry about the one training session I have missed.
How has your preparation been for the marathon? Have you run other races, or shorter races? Have you had injuries?
Really tough and challenging! I play soccer three times a week on top of the running so I've prioritised rest and recovery just as much as training for the marathon. I've ran a few 10km races and a half marathon locally over the past few months. Luckily I've not had any major injuries, a dip in the lake after a long run works wonders!
Everyone has a different method of training. Do you train with a club or on your own? Tell us about your training plan
I train on my own. A typical training week would include one 5km, one fartlek session, two soccer training sessions, a long run on a Saturday morning and a soccer match on a Sunday morning. Since July, I've been building up the distance of the long run by no more than 10% every week. 3 weeks before the marathon I ran my longest distance of 36km at almost a walking pace, to get the experience of being on my feet for 3-4 hours.
What is your goal time for the Dublin marathon?
I would absolutely love to do it in approximately 3 and a half hours, but if I finish it in under 4 hours I will be delighted.
What would your advice be to runners heading into the marathon?
Get prepared the day before. Have your race pack ready and plan your route to the start line, so you don't start the day off on the wrong foot!
Do you have any techniques to motivate yourself when the going gets tough?
I try to remind myself why I am running the marathon, and I imagine the feeling of crossing the line on the day - it always gives me a little boost. My family and girlfriend have also played a massive role in supporting me over the past few months so I'm desperate to make their backing worthwhile.